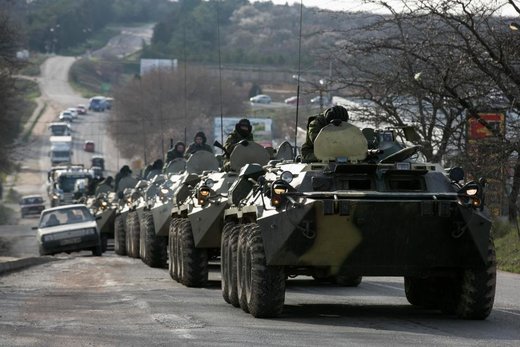 The maneuvers are part of what the Russian strongman sees as the fortification of a new front line with NATO.
As many as 40,000 Russian troops are massing on the country's border with Ukraine - prompting fears of a new military invasion.
The Pentagon has identified eight staging areas dotted along the border, suggesting Russian strongman Vladimir Putin is preparing for new incursions.

Comment: Strongman? How dare Putin for defending his country from NATO provocations!


Among the units deployed to the area are armored vehicles, tanks and fighter jets.
Navy Captain Danny Hernandez told the
Washington Free Beacon
that the exercises were being closely monitored.
He said: "We are extremely concerned about the increasing tensions near the administrative boundary between Crimea and the rest of Ukraine.
"We urge both sides to avoid provocative steps or rhetoric that could escalate the situation."
Officials told the publication similar movements were seen before Vladimir Putin carried out his deceptive annexation of the Crimea.

Comment: Still upset that Crimea voted to be part of Russia.


Such maneuvers have reduced the "warning time" available to the US if he decides to launch another attack.

Comment: Like the US could really do anything about it.


In June it was reported Russia was constructing an army base near the border which it considers to be a new front line with NATO.
A Reuters reporter who visited the Russian town of Klintsy, about 30 miles from Ukraine, saw a makeshift army camp, large numbers of newly-arrived servicemen and military vehicles. Two soldiers in camouflage gear who were manning a checkpoint in a forest turned the reporter away, saying they were guarding a "special military site".
Over the past 12 months, Russia has continued carrying out military maneuvers in the area while NATO carries out exercises in its eastern flank.

Comment: So NATO carries out "exercises" while Russia has military "maneuvers" as if to say there is a difference.


Confrontational rhetoric from both sides has also intensified to levels not seen since the Cold War.