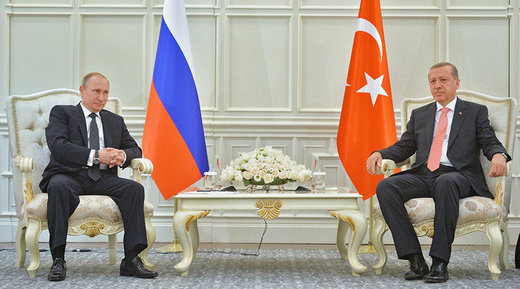 In December 2014, as a result of meddling and coercion by the EU on behalf of the USA, Bulgaria reneged on its commitment to the massive South Stream pipeline project. Ever stoic, the Russian government basically said "your loss" and took their business elsewhere. That elsewhere was Turkey. Then, on September 30, 2015, Russia surprised just about everyone by beginning a large military operation in support of the Syrian government against terrorism. Just under two months later, in late November 2015, a Turkish jet shot down a Russian bomber flying near the Syrian-Turkish border (it could plausibly have made a very brief pass into Turkish airspace). Turkish president Erdogan and prime minister Davutoglu stood by the pilot's actions, blamed Russia, and refused to apologize.
Throughout this entire period, Turkey was perhaps the biggest covert sponsor of terrorists in Syria, including the FSA, al-Nusra, and Daesh. For example, Serena Shim died mysteriously in October 2014 after revealing direct links between Daesh and Turkish intelligence, MIT. Following the shoot-down of the Russian jet and the murder of its pilot (a war crime), Russia began a steady and consistent policy of exposing Turkish complicity in the destabilization and destruction of Syria via terror proxies like Daesh. This included deep involvement in Daesh's oil trade, supplying arms, fighters, border crossings, etc. Whereas before you would have been labeled a conspiracy theorist for suggesting such ties, by now it is common knowledge. So Turkey's image (or at least that of its leadership and deep state) has been seriously tainted.
In addition, Russia cut ties with Turkey, introduced sanctions on most food products, and banned tourism to the country. This has resulted in a
major reduction in economic growth
for Turkey. Tourism has dropped off significantly. Plus, the Turkish government's war against the Kurds in the southeast of the country has created chaos and Turkey's role in the refugee crisis has hampered relations with the EU and U.S., further affecting its economy. Putting these trends in numbers, we see the following:
trade turnover between Russia and Turkey is down from $31 billion in 2014 to a projected $10 billion for this year
total deterioration of relations with Russia is estimated at 0.3 - 0.4% of Turkey's GDP, or $9 billion
biggest drop in tourism in the last 17 years, down by 28% (700,000 fewer tourists this April compared to last)
So it's not that surprising that Erdogan is once again turning to Russia. Erdogan finally sent an official '
Schrodinger's apology
' to Putin, which, depending on who reads it, and how they read it, is either an apology or
not an apology
. While most non-Turkish sources see it as a bona fide apology, the Turks do not. It seems it was designed in this way. It is vague enough to be interpreted as an apology by the Russians, but an outright apology and admission that the fighter jet was brought down deliberately would not go over well in Turkey. Everyone benefits.
After portions of the letter were
made public
on Monday, Turkey and Russia have seemingly completely reversed their previous positions. Immediately after the news, Gazprom expressed willingness to restart work on the
Turkish Stream
project. Today, Wednesday, Putin and Erdogan
spoke with each other
on the phone. As a result of the call, Putin plans on
personally meeting
Erdogan in the near future (they haven't met since the shoot-down) and has instructed the Russian government to begin normalizing relations with Turkey: bilateral cooperation in trade, ending the restrictions on Russian tourists, and boosting cooperation in the fight against terrorism. (You can read an unofficial translation of Putin's statement on
the Duran
.)
One condition of the thaw in relations might be the fate of the Turkish mercenary Alparslan Celik, who initially claimed responsibility for illegally killing Russian pilot Oleg Peshkov as he parachuted from his jet. The summary of Putin's call says he "expressed the hope that the judicial investigation against the Turkish citizen accused of the death of the Russian pilot would be carried out in an objective way." Celik was already cleared of Peshkov's murder due to lack of evidence. On June 10th, his trial was announced to resume on June 27th, yesterday, so the timing is coincidental, to say the least. Celik's custody has been
extended
to June of next year, and the new focus of the trial appears to be a 2010
fraud
case, as well as
possible involvement
in the death of the Russian helicopter pilot who died while rescuing the surviving pilot from the shot-down Su-24.
The shoot-down is still an interesting case. First there's this from
the Duran
's Alexander Mercouris:
The Russians almost certainly believe that the SU24 was shot down deliberately. Indeed I have heard that the reason Putin reacted so strongly to the shooting down of the SU24 is that - contrary to the Russian military's advice - he had believed Erdogan's assurances that such a thing would not happen and blamed himself for believing Erdogan's assurances and for disregarding the warnings of his own military.
He may have had good reason. See Joe Quinn's piece from the time:
Always the last to know: Did Turkish government find out about shoot-down of Russian jet after the fact?
Recently,
Katehon
wrote the following:
According to our information, the provocation of the destruction of the Russian aircraft was directly coordinated with the US. Adherents Fethullah Gülen, a Turkish Islamist ideologue permanently residing in the United States, as well as other American agents of influence in Turkey may have been involved. The US aimed to benefit from the conflict of two regional rivals, making both of them more dependent on outside power.

According to the Turkish and world press, Turkish Prime Minister Ahmet Davutoglu was behind the shoot down of the Russian aircraft on the Turkish-Syrian border on 24th November 2015. According to his reported declaration, the Turkish armed forces executed his order. It was Davutoglu who voiced the most radical initiatives of the Turkish leadership for the invasion of Syria. However, his most serious crime against Turkey was the break in relations with Russia, which isolated the country from their most important partner and made it directly dependent on the United States and Qatar. Impartial geopolitical analysis shows that Turkey was not interested in the loss of Russia as a partner. It was the only factor that allowed the Turks to act independently of the United States, playing on the contradictions between Moscow, Washington, and European capitals. Yes, the positions of both countries on Syria differed significantly, but before the tragic events of November 2015, both countries were able to negotiate their interests.
Coincidentally, Davutoglu was dismissed as PM by Erdogan in May of this year, just one month ago. The new PM, Binali Yildirim, may be seeking to reverse Davutoglu's disastrous policies. His two main policies are apparently rapprochement with Russia and preserving Syria's integrity (thus avoiding what Turks would consider a disastrous possibility: a Kurdistan on its border). Along this line Mercouris gives this reason for Erdogan's apology: "The short answer is that Erdogan never imagined that the shooting down of the SU24 would cause the damage to his relations with Russia that it did.
Almost from the first moment it was obvious that he knew it was a mistake and he has since worked consistently to try to repair the damage
." He adds:
Ultimately Turkey is too important a country for the Russians to prolong the quarrel. In the immediate term the Russians want at least a modicum of cooperation from the Turks to close the border with Syria in order to stabilise the situation there. Beyond that Turkey is a critical trade and economic partner, with the Russians before the breakdown in relations planning a major gas pipeline to Turkey ("Turk Stream") in place of the cancelled South Stream. At a more prosaic level Turkey had become a major and popular tourist destination for Russian tourists holidaying in the summer, and their return there will be popular in both countries.

Beyond these obvious political and economic interests there are the greater strategic calculations. Turkey is a major Eurasian power and until the sudden breakdown in relations last year the Russians and the Chinese were making serious efforts to draw Turkey closer into the Eurasian system despite the country's membership of NATO. Turkey for example already has observer status in the Shanghai Cooperation Organisation and was showing increasing interest in the Eurasian Economic Union. It is also a key participant in the Chinese Silk Road project. A restoration in relations between Turkey and Russia should hopefully lead to a resumption of the dialogue between the Eurasian powers and Turkey with the ultimate intention of drawing Turkey away from the West in order to integrate it with the Eurasian institutions.
So it makes sense that Turkey would benefit on multiple levels by resuming relations with Russia and making changes to their existing policies. There are some signs that this may be happening to some degree. Today, the head of Turkey's delegation to the Parliamentary Assembly of the Black Sea Economic Cooperation, Ramazan Can, highlighted Russia's role in defeating international terrorism,
saying
: "Without cooperation between all countries in the world, including Russia, defeating this evil is impossible." Can
also said
(somewhat disingenuously): "We cooperate with various countries in a fight against IS [Daesh] and other terrorist organizations and
take all the necessary measures to prevent militants from pouring across the border with Syria
." This is disingenuous, to say the least, since Turkey has basically had an open-border policy for Daesh and other terrorists. Just yesterday, the Turkish daily
Karshi
reported that secret Turkish
police reports
indicate that al-Nusra and Daesh "
are
still shipping weapons and supplying their logistics from Turkey
" using legal and illegal border crossings:
The daily also said the Al-Nusra and ISIL terrorist groups have established bases in Turkey to train recruits, adding that many explosive devices are even manufactured and assembled on Turkish soils.

Earlier on Tuesday, Spokesman of a Turkish political party revealed the Turkish government, since the beginning of the crisis in Syria, has been smuggling weapons to the terrorist organizations in Syria using a large number of ambulance vehicles. "Turkey is a main cause of the war against Syria due to its miscalculations and arbitrary policies which caused the bloodshed of innocents in Syria," the People's Democratic Party in Turkey (HDP) Ayhan Bilgen told Syrian media, pointing out that terrorists leave Turkish camps for fighting in Syria and return back to the camps in Turkey.
So if Turkey wants all the benefits of resumed relations with Russia, they will have to demonstrate this through actions, particularly when it comes to their porous border with Syria. This is what Ulson Gunnar points out in his latest piece for
New Eastern Outlook
:
Should Turkey sincerely regret the downing of Russia's SU-24 warplane, it must also sincerely regret the Russian soldiers losing their lives in Syria fighting the Islamic State, who, admittedly, is being rearmed, reinforced and resupplied from Turkey. This regret, articulated in President Erdogan's recent apology, one must expect, manifests itself with a clear strategy along Turkey's border to close down logistical hubs, training and recruiting as well as weapon depots serving the Islamic State just over the border with Syria.
Only time will tell if Turkey keeps its end of the bargain. You can bet that the Russians aren't going on blind trust here; they expect results.
This puts yesterday's impeccably timed terrorist attack at Istanbul's airport in a different light
. It's too early to assign blame for the attacks. I'd keep the following possibilities open: Daesh (in response to loss of Turkish support, or the threat of such loss after news of Erdogan's apology), a U.S./NATO false flag (as a message saying, "Support us, not the Russians, or we will keep doing this and worse"), a Turkish false flag (to justify at least a nominal effort against Daesh in line with the Russians). Ilhan Tanir, a correspondent for Turkey's
Cumhuriyet
paper, told
Sputnik
:
"The attack indicates that it is ISIS [Daesh]. It is not confirmed yet because ISIS never confirms its attacks on Turkish soil. This gives Turkey extra disturbance because ISIS militants take responsibility for attacks in other countries," Tanir said. He further said that there have been indications and news reports coming from US intelligence agencies suggesting that just a few weeks ago there were dozens of Daesh members going into Turkey.
...
"Now Erdogan is asking the West to get together and take a stance against ISIS networks. However, Erdogan has been ruling Turkey for decades and he is one person who has been overseeing Syria's policy since 2011 and all the red alarms have been going on for at least couple of years, but the Turkish authorities only started taking some real caution after the Ankara attacks."