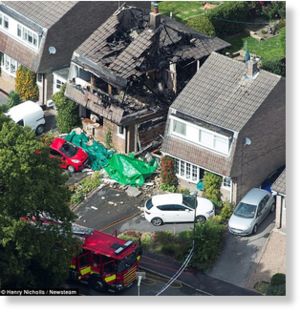 Two very recent 'home gas explosions' have added to the growing list of mysterious 'gas' explosions that have destroyed residential homes and other buildings around the world in recent years.
Two days ago an explosion and fire severely damaged a single home in a quiet cul-de-sac in Derbyshire, England. Husband and wife Simon and Shelley Saxton-Cooper were both killed in the blast.
Initially treating the death of the couple as 'not suspicious', police have since declared that Mrs Saxton-Cooper was injured before the explosion, are treating her death as murder and are not looking for anyone else in connection with the incident.
How exactly police reached this conclusion so quickly is as big a mystery as the explosion itself.
Given the extent of the damage to the house it would surely be almost impossible to determine the origin of injuries to either of the two people, unless of course there was clear evidence of a gun shot wound.
But police have made no mention of any such wound and, indeed, have admitted that the cause of of Mrs Saxton-Cooper's death is yet to be determined and a post-mortem carried out. The implication, however, is clear: police suspect that Mr. Saxton-Cooper murdered his wife.
By declaring the explosion a 'crime scene', police and other official government bodies can seize control of the investigation and prevent information from being leaked to the public.
This suggestion, however, appears at odds with the comments of close friends and neighbors of the Saxton-Coopers. Julie Vallance who has lived on Valley View Road for 20 years told the
Derby Telegraph
:
"They were a very together couple. It was obvious they thought the world of each other. They have no children but they loved their dog, it was a big part of their lives.
They were just a really happy couple."
As to the explosion itself, off duty fireman Paul Archer, of Oakland Crescent, just metres from the property,
said
: "I was in bed this morning when I heard a loud crashing noise. I think it must have been when an explosion pushed the bricks out.
It didn't sound like a massive explosion - it sounded like something big had been dropped."
Jayne Titchmarsh, who lives two doors away,
said
: "
I just heard like a loud thunder.
I ran to the window and saw debris coming down across the window and there were flames on the front."
Waxahachie, Texas explosion levels house
Less than 24 hours ago, a massive explosion completely leveled a residential home in a quiet suburb of Waxahachie, Texas.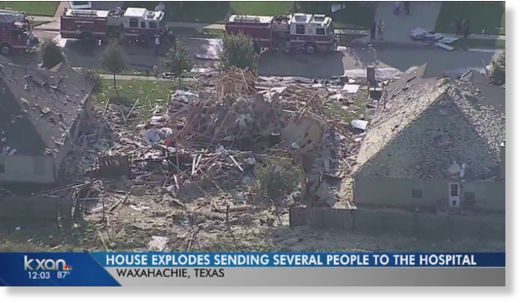 Waxahachie firefighters arrived at the home on the 100 block of Arabian Road at about 8 a.m. after neighbors called 911 to report the devastation.
The explosion leveled most of the home, leaving only a small portion of the wood frame intact. Much of the home collapsed upon the foundation, though thousands of pieces of roofing debris and other building material were seen strewn across several nearby properties.
A woman and her brother who were in the house at the time suffered serious burns and were airlifted to Parkland Memorial Hospital in Dallas after being freed by neighbors.