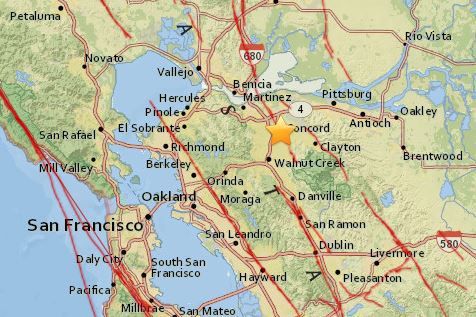 The U.S. Geological Survey is reporting three earthquakes, two with a 3-plus magnitude, have struck Concord Wednesday morning.
The USGS says the first quake, a magnitude 3.2, was centered east of Highway 242 in Concord and struck at about 7:01 a.m. PDT Wednesday. The second and largest, a 3.6-magnitude, struck at 7:32 a.m. It was later downgraded to a 3.5. The third, a 2.6-magnitude, hit shortly after at 7:35 a.m.
Over 100 people, mostly in Pleasant Hill, reported feeling the earthquakes, according to USGS' online "Did You Feel It" survey.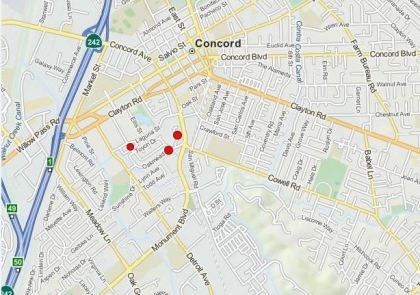 People chimed in over Twitter after some light shaking.
There have been no reports of injury or damage.
Aftershocks continue to rattle the East Bay after a
3.6-magnitude earthquake struck the same area on Sunday afternoon
.
The U.S. Geological Survey says an earthquake with a preliminary magnitude of 4.0 hit at 2:13 p.m. Sunday. That quake was later downgraded to a 3.6 by the USGS. It was centered a mile south of Concord, along the
Concord fault
.
Following the 3.6 quake, at least
eight aftershocks were reported
as of Wednesday.
1.8 — 05/05 05:51 a.m.
2.8 — 05/04 6:52 p.m.
1.6 — 05/04 1:52 a.m.
1.5 — 05/03 9:30 p.m.
2.3 — 05/03 6:54 p.m.
1.6 — 05/03 3:56 p.m.
2.1 — 05/03 3:28 p.m.
3.0 — 5/03 3:14 p.m.
Scientists says the Concord fault, which runs through Concord to Suisun Bay, has the
potential to do major damage
in the East Bay.
The Hayward and San Andreas faults steal most of the spotlight, but the Concord fault stretching from the Mount Diablo foothills to the Carquinez Strait could cause major damage due to its location.
"If we saw a 6.0 on Concord, we could see far more damage than we did in Napa," USGS Seismologist Dr. David Schwartz told KCBS news following Sunday's quake.
Even if the Concord Fault only produced a 5.0 quake, it could cause
significant damage to refineries
in the area.
There was a damaging 5.4-magnitude quake in 1955 that killed one person and caused property damage estimated at $1 million.
The USGS estimates there's a 3 to 4 percent probability of a magnitude-6.7 or higher earthquake striking on the Concord of lower Green Valley Fault in the next 30 years compared with 6.4 percent for the San Andreas and 14.3 percent for the Hayward Fault.
A series of smaller quakes shook the area in the moments before and after the larger one.
Strong earthquakes with an epicenter off the coast can trigger tsunamis, depending on the size and type of the fault movement. The Pacific Tsunami Warning Center tracks earthquake data for the West Coast.