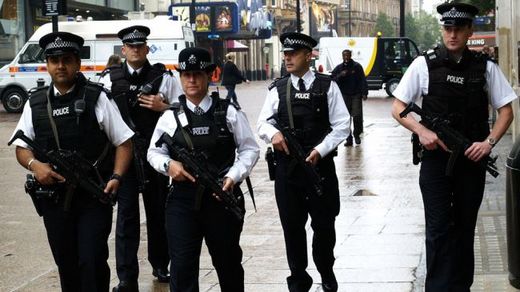 Britain is planning to deploy 10,000 police officers to shut out anti-war protests during NATO's summit in the Welsh city of Newport, documents reveal.
The Police Federation briefing documents released on Friday showed that there will be
one officer for every protester
at the Celtic Manor Hotel, which will host the NATO summit on September 4 and 5.
"To ensure the safety and secure passage of the event a mutual aid authority has been agreed to secure the deployment of nearly 10,000 officers," it said.
This would be one of Britain's biggest police operations since the 2012 Olympics and the biggest in Welsh history.
Peace activists, who have pledged to descend on the summit venue to express their outrage at NATO's warmongering policies, criticized the British government's decision, saying it is
spending millions to protect NATO leaders from peaceful protesters.
"Together with billions spent on war and nuclear weapons we will now see vast sums being wasted on 'protecting' politicians from peaceful protesters," said Kate Hudson, the General Secretary of the Campaign for Nuclear Disarmament (CND).
She said the deployment of large number of police forces at the venue is yet another example of public money being spent on the wrong priorities by the government.
"Our message is clear. End wars, disarm our nuclear weapons. And spend our money on meeting people's real needs: education, jobs and the NHS," she added.
In November last year, the CND blasted the coalition government for hosting the NATO summit in Wales, saying neither Newport nor anywhere else in the UK should host a summit of the NATO.