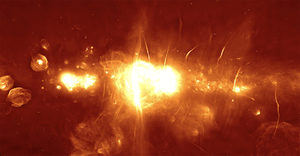 Galactic Center: South Africa's MeerKAT Radio Telescope captured this panorama of the center of the Milky Way. Area approx. 1,000 light-years by 500 light-years
Who controls the past controls the future. Who controls the present controls the past.
- George Orwell
Recent Comments
Noone adds insult to injury without a clinton. Exiles head to the pyramid drop dead self ignite and send her dad a post card.
---
A tiny new island of lava has formed Has some idiot built a house on it yet?
---
Funny even thinking What the fuck are you reading.....................
---
Than word little gasps. As true men dont glamor.
---
Youre converse and guess by dignity.