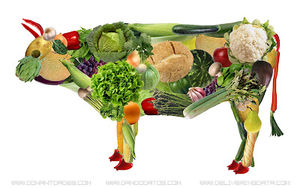 Vegans take note: A blockbuster new study from Austria which is sure to send shock waves and generate massive denials among vegetarians has concluded that people who eat only vegetables are less healthy in key health categories and have a poorer quality of life than people who include some meat in their diets.
Among the study findings:
Vegetarians visit their doctors more often and are more prone to allergies
They also have a 50% increased risk of both heart attacks and cancer
They are also more likely to develop depression and anxiety disorders
The study did find that vegetarians had some significant health advantages, such as being more physically active, drinking less alcohol and smoking less tobacco; however, vegetarians' health overall was deemed to be unhealthy compared to those who included some meat in their diets.
Avoiding meat entirely often leads to nutritional deficiencies
Meats contain some essential nutrients that either are not found in vegetables or are found in very small amounts. Though it is possible for vegetarians to be very healthy if they plan well and supplement well, apparently most do not do so. As a result, many who avoid meat entirely are often deficient in essential nutrients which are needed for optimum
health
.
The most glaring example of nutritional deficiencies in non-meat eaters is vitamin B12 deficiency. A study published in the
American Journal of Clinical Nutrition
in 2009 found that a whopping 90% of
vegetarians
were deficient in vitamin B12. Vitamin B12 is a nutrient that helps keep the body's nerve and blood cells healthy and helps make DNA, the genetic material in all cells.
According to the study, people who avoid
meat
entirely are 50% more likely to have heart attacks and 50% more likely to have cancer. The study also found that the huge majority of non-meat eaters are deficient in essential nutrients. The most glaring example found was that a whopping 90% of vegetarians were deficient in essential vitamin B12.
Among the benefits of adequate vitamin B12:
Protection against cancer
Reductions in depression, stress and brain shrinkage
Maintaining a healthy digestive system
Reduction of fatigue
Healthy skin, hair and nails
Details of the new study
The study was conducted by researchers at the Medical University of Graz in Austria and was published in
PLOS ONE
. It was a cross-sectional study from Austrian Health Interview Survey data which examined participants' dietary habits, demographic characteristics and general lifestyle differences.
Participants were divided into four groups:
Vegetarian
Carnivorous diet rich in fruits and vegetables
Carnivorous diet less rich in meat
Carnivorous diet rich in meat
Those in the "Carnivorous diet less rich in meat" came out on top in more measured categories than any other group, though other groups scored higher in some individual health categories. The researchers concluded that "Our study has shown that Austrian adults who consume a vegetarian diet are less
healthy
(in terms of cancer, allergies, and mental health disorders), have a lower quality of life, and also require more medical treatment."
Perhaps a better conclusion is that some meat, but not too much meat, is needed for a healthy diet - and this author notes that the study failed to distinguish between vegetarian and vegan. It should go without saying that, when you do consume meat, choose healthy meats such as organic, free-range, grass-fed beef, cage-free, organic chicken, wild-caught fish, etc. instead of non-organic, processed meat products, meat subject to feed lot practices and farmed fish.
Sources
Vegetarians are 'less healthy' and have a poorer quality of life than meat-eaters
Study: Vegetarians Less Healthy, Lower Quality Of Life Than Meat-Eaters
plosone.org
Vitamin B-12 and homocysteine status among vegetarians: a global perspective
Vitamin B Fact Sheet
health benefits of vitamin B
About the author
Tony Isaacs, is a natural health author, advocate and researcher who hosts
The Best Years in Life
website for those who wish to avoid prescription drugs and mainstream managed illness and live longer, healthier and happier lives naturally. Mr. Isaacs is the author of books and articles about natural health, longevity and beating cancer including
Cancer's Natural Enemy
and is working on a major book project due to be published later this year.