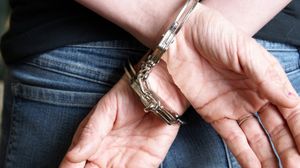 A 16-year-old autistic Arizona girl is in custody for second-degree murder after she admitted strangling a 43-year-old man during
what police said was a "consensual sex act."
According to
The Arizona Republic
, Glendale police were called to a home at around 5:45 p.m. on Saturday and found Jason Ash dead in the apartment.
Ash had a cord around his neck and several cuts on his body.
The mother told officers that she had left her 16-year-old daughter alone in the home with the girl's 43-year-old "friend."
"The mother later received a call from her daughter indicating that the daughter and Ash were involved in a consensual sex act involving strangulation and the male was deceased,"
Sgt. Jay O'Neill explained
to reporters. "The mother returned to the apartment and called police. While the mother attempted to render life-saving measures to Ash, the 16 year-old fled the scene."
The girl, whose name had not been released because she was a juvenile, was located in a nearby apartment and taken into custody without resistance.
"During an interview, the 16-year-old suspect confessed to strangling Ash during a sex act and then later cutting him," O'Neill said.
The mother
told KNXV
that her daughter was having trouble understanding the situation because she suffered from schizophrenia and autism.
The girl was "really confused and does not understand what happened," the mother said.
It was not immediately clear if the Maricopa County Attorney's Office would try the girl as an adult.
Watch this video from KNXV, broadcast Jan. 21, 2014.