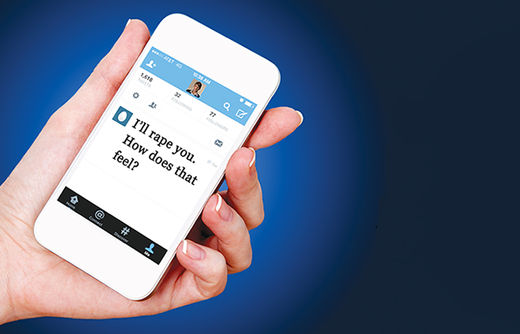 I was 12 hours into a summer vacation in Palm Springs when my phone hummed to life, buzzing twice next to me in the dark of my hotel room. I squinted at the screen. It was 5:30 a.m., and a friend was texting me from the opposite coast. "Amanda, this twitter account. Freaking out over here," she wrote. "There is a twitter account that seems to have been set up for the purpose of making death threats to you."
I dragged myself out of bed and opened my laptop. A few hours earlier, someone going by the username "headlessfemalepig" had sent me seven tweets. "I see you are physically not very attractive. Figured," the first said. Then: "You suck a lot of drunk and drug f****** guys c****." As a female journalist who writes about sex (among other things), none of this feedback was particularly out of the ordinary. But this guy took it to another level: "I am 36 years old, I did 12 years for 'manslaughter', I killed a woman, like you, who decided to make fun of guys c****." And then: "Happy to say we live in the same state. Im looking you up, and when I find you, im going to rape you and remove your head." There was more, but the final tweet summed it up: "You are going to die and I am the one who is going to kill you. I promise you this."
My fingers paused over the keyboard. I felt disoriented and terrified. Then embarrassed for being scared, and, finally, pissed. On the one hand, it seemed unlikely that I'd soon be defiled and decapitated at the hands of a serial rapist-murderer. On the other hand, headlessfemalepig was clearly a deranged individual with a bizarre fixation on me. I picked up my phone and dialed 911.
Two hours later, a Palm Springs police officer lumbered up the steps to my hotel room, paused on the outdoor threshold, and began questioning me in a steady clip. I wheeled through the relevant background information: I am a journalist; I live in Los Angeles; sometimes, people don't like what I write about women, relationships, or sexuality; this was not the first time that someone had responded to my work by threatening to rape and kill me. The cop anchored his hands on his belt, looked me in the eye, and said, "What is Twitter?"
Staring up at him in the blazing sun, the best answer I could come up with was, "It's like an e-mail, but it's public." What I didn't articulate is that Twitter is the place where I laugh, whine, work, schmooze, procrastinate, and flirt. It sits in my back pocket wherever I go and lies next to me when I fall asleep. And since I first started writing in 2007, it's become just one of the many online spaces where men come to tell me to get out.
The examples are too numerous to recount, but like any good journalist, I keep a running file documenting the most deranged cases. There was the local cable viewer who hunted down my email address after a television appearance to tell me I was "the ugliest woman he had ever seen." And the group of visitors to a "men's rights" site who pored over photographs of me and a prominent feminist activist, then discussed how they'd "spend the night with" us. ("Put em both in a gimp mask and tied to each other 69 so the b*****s can't talk or move and go round the world, any old port in a storm, any old hole," one decided.) And the anonymous commenter who weighed in on one of my articles: "Amanda, I'll f***ing rape you. How does that feel?"
None of this makes me exceptional. It just makes me a woman with an Internet connection. Here's just a sampling of the noxious online commentary directed at other women in recent years. To
Alyssa Royse
, a sex and relationships blogger, for saying that she hated
The Dark Knight
: "you are clearly retarded, i hope someone shoots then rapes you." To Kathy Sierra, a technology writer, for blogging about software, coding, and design: "i hope someone slits your throat and c**s down your gob." To Lindy West, a writer at the women's website Jezebel, for
critiquing a comedian's rape joke
: "I just want to rape her with a traffic cone." To Rebecca Watson, an atheist commentator, for blogging about sexism in the skeptic community: "If I lived in Boston I'd put a bullet in your brain." To Catherine Mayer, a journalist at
Time
magazine, for
no particular reason
: "A BOMB HAS BEEN PLACED OUTSIDE YOUR HOME. IT WILL GO OFF AT EXACTLY 10:47 PM ON A TIMER AND TRIGGER DESTROYING EVERYTHING."
A woman doesn't even need to occupy a professional writing perch at a prominent platform to become a target. According to a 2005 report by the Pew Research Center, which has been tracking the online lives of Americans for more than a decade, women and men have been logging on in equal numbers since 2000, but the vilest communications are still disproportionately lobbed at women. We are more likely to report being stalked and harassed on the Internet - of the 3,787 people who reported harassing incidents from 2000 to 2012 to the volunteer organization
Working to Halt Online Abuse
, 72.5 percent were female. Sometimes, the abuse can get physical: A Pew survey reported that five percent of women who used the Internet said "something happened online" that led them into "physical danger." And it starts young: Teenage girls are significantly more likely to be cyberbullied than boys. Just appearing as a woman online, it seems, can be enough to inspire abuse.
In 2006, researchers from the University of Maryland set up a bunch of fake online accounts and then dispatched them into chat rooms. Accounts with feminine usernames incurred an average of 100 sexually explicit or threatening messages a day. Masculine names received 3.7.
There are three federal laws that apply to cyberstalking cases; the first was passed in 1934 to address harassment through the mail, via telegram, and over the telephone, six decades after Alexander Graham Bell's invention. Since the initial passage of the Violence Against Women Act, in 1994, amendments to the law have gradually updated it to apply to new technologies and to stiffen penalties against those who use them to abuse. Thirty-four states have cyberstalking laws on the books; most have expanded long-standing laws against stalking and criminal threats to prosecute crimes carried out online.
But making quick and sick threats has become so easy that many say the abuse has proliferated to the point of meaninglessness, and that expressing alarm is foolish. Reporters who take death threats seriously "often give the impression that this is some kind of shocking event for which we should pity the 'victims,'" my colleague Jim Pagels
wrote in Slate this fall
, "but anyone who's spent 10 minutes online knows that these assertions are entirely toothless." On Twitter, he
added
, "When there's no precedent for physical harm, it's only baseless fear mongering." My friend Jen Doll
wrote
, at
The Atlantic Wire
, "It seems like that old 'ignoring' tactic your mom taught you could work out to everyone's benefit.... These people are bullying, or hope to bully. Which means we shouldn't take the bait." In the epilogue to her book
The End of Men
, Hanna Rosin - an editor at Slate - argued that harassment of women online could be seen as a cause for celebration. It shows just how far we've come. Many women on the Internet "are in positions of influence, widely published and widely read; if they sniff out misogyny, I have no doubt they will gleefully skewer the responsible sexist in one of many available online outlets, and get results."
So women who are harassed online are expected to either get over ourselves or feel flattered in response to the threats made against us. We have the choice to keep quiet or respond "gleefully."
But no matter how hard we attempt to ignore it, this type of gendered harassment - and the sheer volume of it - has severe implications for women's status on the Internet. Threats of rape, death, and stalking can overpower our emotional bandwidth, take up our time, and cost us money through legal fees, online protection services, and missed wages. I've spent countless hours over the past four years logging the online activity of one particularly committed cyberstalker, just in case. And as the Internet becomes increasingly central to the human experience, the ability of women to live and work freely online will be shaped, and too often limited, by the technology companies that host these threats, the constellation of local and federal law enforcement officers who investigate them, and the popular commentators who dismiss them - all arenas that remain dominated by men, many of whom have little personal understanding of what women face online every day.