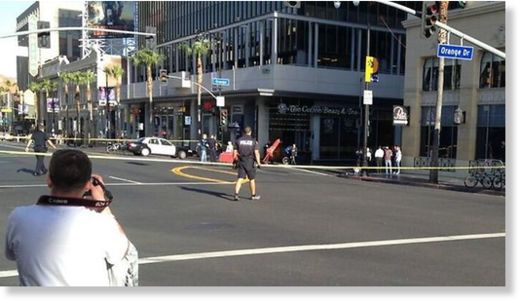 A man claiming to have an explosive in his lunch box drew police response near the Chinese Theatre on Thursday afternoon.
A stretch of Hollywood Boulevard is shut down after a man notified the Los Angeles Police Department that he had brought a lunch box containing a bomb inside the Hooters restaurant located across from the TCL Chinese Theatre.
The stretch of road between Orange and Highland remains closed at this time as police evaluate the situation.
The call was received around 4:45 p.m. PDT, though it is not clear whether the suspect remains inside the restaurant.
"He indicated he went into the restaurant and said he had a lunch pail and in there was a bomb," a spokesperson for the LAPD tells
The Hollywood Reporter
. "He left that behind, and from there, everybody scrambled and called the police."
Businesses in the area have since been evacuated.
A suspect has not yet been arrested.
The news comes two days after a bomb threat at Hollywood-based news station KTLA turned out to be a hoax.