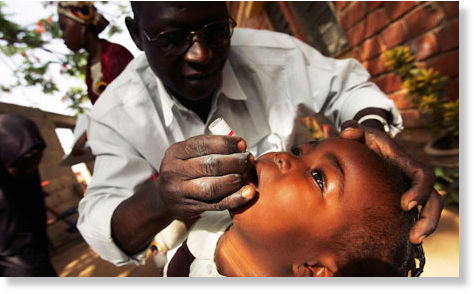 At least nine health workers gunned down in northern city of Kano amid increasing hostility towards polio immunisation drive
At least nine women who were vaccinating children against polio have been shot dead in northern Nigeria by gunmen suspected of belonging to a radical Islamist sect.
The killings drew comparisons with a series of
incidents in Pakistan
last December where five female polio vaccinators were gunned down, apparently by Islamist militants. It also signalled a fresh wave of hostility towards immunisation drives in Nigeria, where some clerics have claimed the vaccines are part of a western plot to sterilise young girls and eliminate the Muslim population.
The attacks took place in Kano, the biggest city in Nigeria's predominantly Muslim north, where families generally feel more comfortable allowing women inside their homes than men.
On Friday morning gunmen arrived by motor tricycle and opened fire in the Hotoro Hayi neighbourhood, killing at least eight female vaccinators, witnesses told Associated Press. Four people were killed in a second attack, in the Unguwa Uku neighbourhood, according to witnesses.
The final death toll remained unclear. A Kano police spokesman, Musa Magaji Majia, said the attacks killed nine people, all women, taking part in the vaccine drive and giving oral drops to children. A local hospital said it received only two bodies from the Unguwa Uku attack, with four others injured.
While officers said there were no immediate suspects for the shootings, witnesses said the Islamist militant group Boko Haram was responsible. The sect has been blamed for the deaths of some 1,400 people in central and northern Nigeria since 2010, including an attack in Kano in January 2012 that killed at least 185.
Nigeria is one of three countries where polio, which can cause irreversible paralysis within hours, remains endemic; the others are Afghanistan and Pakistan. There were fears that Boko Haram is copying tactics used by militants in those countries who accuse health workers of spying for the US. Such rumours intensified after it emerged that a Pakistani doctor ran a fake vaccination programme to help the CIA track down and kill Osama bin Laden.
At least 16 health workers taking part in polio vaccination drives were killed in attacks in Pakistan in December and January.
Activist Shehu Sani, president of the Civil Rights Congress of Nigeria, said: "Boko Haram and the Taliban in Pakistan and Afghanistan share a common ideology and common strategy and also pose a common danger. If you observe their methods of operation, their targets are similar. Boko Haram have targeted police stations, politicians, religious clerics who speak out against them and people engaging in polio vaccination programmes."
This was not the first strike against polio vaccinators in Kano. In October, police said two officers involved in guarding an immunisation drive there were shot and killed.
Earlier tThis week a Kano radio station told how one of its journalists had been attacked by local officials and had his equipment confiscated after speaking to a man who refused to allow his children to be vaccinated. A producer for the programme apparently spoke on air about fears people have about the vaccine, which then spread through the city. Kano state's police commissioner ordered his officers to arrest the producer, officials said.
The suspicion surrounding polio vaccinations in Nigeria took hold in 2003, when a Kano physician heading the Supreme Council for Sharia in Nigeria said the medicine had been "corrupted and tainted by evildoers from America and their Western allies". The consequence was hundreds of new infections in children in the north. The outbreak of the virus eventually spread abroad, even causing infections in Indonesia.
Sani added: "Polio vaccinations have been controversial. There are religious clerics who believe the specious argument that [the vaccination programme] is an attempt to reduce the number of Muslims in northern Nigeria through sterilisation. There is a constituency of opinion that has been disseminated to the general population."
According to the Global Polio Eradication Initiative, there were 121 new cases of polio in Nigeria last year, compared with 58 in Pakistan and 37 in Afghanistan.
Oyewale Tomori, a campaigner for polio eradication in Nigeria, told Reuters: "This is certainly a setback for polio eradication in Nigeria, but not a stop. The best we can do is to work harder and see the end of polio ... so their loss will not end as a useless sacrifice."
Kano's government banned motorbikes from carrying passengers last month after the state's emir, one of the country's most prominent leaders, was nearly killed when gunmen attacked his convoy, killing four of his aides. Residents said soldiers had cordoned off the areas attacked and movement was being restricted in the city.
President Goodluck Jonathan has highlighted links between Boko Haram and Saharan Islamists and said that relationship justified his decision to join efforts by French and west African forces to fight militants in Mali last month.