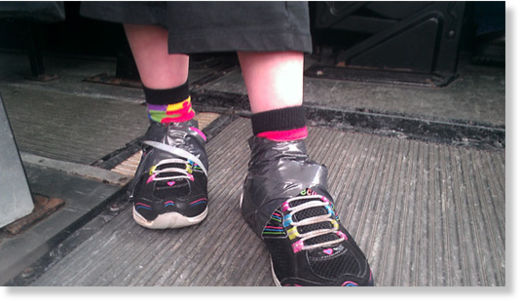 An 8-year-old girl with Down syndrome recently came home from elementary school with her shoes duct-taped to her feet and ankles.
For obvious reasons, the girl's parents, Nate and Elizabeth Searcy, wanted to know why their daughter Shaylyn arrived from her life skills program at Westlake Elementary in such a manner.
They have yet to receive an answer.
Acccording to
ABC News
, the Searcys were so disturbed with what they saw that they re-enrolled Shaylyn at Bridgeport Elementary, the school she attended last year.
"I noticed she had duct tape around her shoes, over and under the tops of her shoes, and up and around her ankles to keep them on," Nate Searcy said.
Elizabeth Searcy snapped a photo of her daughter's bound feet before the couple headed to the elementary school to speak with school officials. They talked to the assistant principal, who agreed that the actions were inappropriate.
Mr. Searcy said he still does not know who bound his daughter's feet to her shoes and noted that the couple has yet to receive an apology from anyone at Westlake Elementary.
The chief communications officer for the Metropolitan School District of Wayne Township, Mary Lang, released a statement on Tuesday saying, "We have notified the Indiana Department of Child Services of the incident, and if warranted, we will file a report with the agency."
Mr. Searcy is looking forward to seeing his daughter back in school but also still would like to see some changes made at Westlake Elementary.
"I'd like to see people's education backgrounds checked. I'm stunned," he said, "Obviously, whoever did this doesn't need to be a part of the program there."