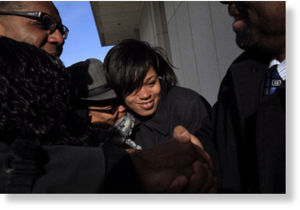 Durham - A Chapel Hill woman who says a Durham police officer beat her during an arrest last fall won a court victory this week, and the officer has resigned.
Charges against Stephanie Nickerson, a Navy veteran who has filed a police brutality complaint, have been dropped. The charges of resisting arrest and assault on an officer were dismissed Wednesday, according to attorney Daryl Atkinson of the Southern Coalition for Social Justice.
Nickerson and her lawyers learned of the development Thursday morning after more than 20 people rallied for her in near-freezing temperatures on the courthouse steps. She had been due in court later that day.
Meanwhile, Cpl. Brian Schnee resigned from the Police Department on Friday, according to Beverly Thompson, the city's director of public affairs. He had worked for the department since 2001.
Atkinson said he and Nickerson's other attorney, Geeta Kapur, would discuss possible next steps.
"The immediate goal was to get these charges dismissed," Atkinson said. "This case, though, speaks to some larger issues of racial injustice."
Kapur said she could not say whether Nickerson would sue the city, but said, "Our client's going to explore all of her options."
Kapur and Atkinson are representing Nickerson pro bono.
Noise complaint
Schnee responded to a noise complaint Oct. 28 at an outdoor party. According to Nickerson supporters, Nickerson told the hostess she did not have to let officers in the house because they did not have a warrant.
That's when Schnee allegedly threw Nickerson to the ground and started punching her in the face.
Thursday's rally was organized by the National Association for the Advancement of Colored People and SpiritHouse, a Durham-based nonprofit that fights inequality.
Roland Staton, first vice president of the Durham branch of the NAACP, said Nickerson was jailed overnight with no medical attention despite her swollen and bruised face.
The police said they had to search the house that night for safety reasons, Staton said, and yet no search was ever conducted. The charges, he said, were filed only to shield Schnee.
"She was simply standing up for her and her friends' Fourth Amendment rights," Staton said.
Staton said the Durham Civilian Police Review Board is powerless to hold police accountable when they use excessive force.
In a statement by Nickerson that Staton read at Thursday's rally, she said she was overcome by fear and hopelessness that night.
"I felt broken and I didn't have the first clue how to put myself back together again," the statement read.
She said she hoped Schnee would be fired.
Also speaking Thursday was the Rev. Curtis Gatewood, the second vice president of the North Carolina Chapter of the NAACP, who said that even thugs know better than to hit a woman.
"You are in for a rude awakening if you think you can go into one of these 'hoods and brutally beat a woman with no consequences," Gatewood said. "We're here to say we're not going to tolerate it because we are moving forward and we will not take one step back."
Nickerson supporters handed out pamphlets to those entering the courthouse, and held signs reading "End police brutality" and "Justice for Navy veteran."
Nickerson and supporters also held a rally in Chapel Hill in November, standing for two hours in chilly rain during rush hour and chanting "End police brutality" and other slogans.