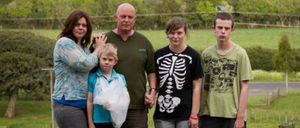 A British couple and their three children are set to be deported from New Zealand because the father was diagnosed with a brain tumour.
Paul and Sarah Crystal and their children, aged 7, 15 and 17, moved to New Zealand more than six years ago but their
application for permanent residency was turned down because the government was concerned about his inability to work and the treatment cost.
Mr Crystal, from Evesham, who has been given a 20 per cent chance of surviving the next three years, said the family was now "stuck" between Britain and New Zealand. They cannot afford air travel back to Britain but cannot stay in New Zealand without access to welfare benefits, he said.
"I don't know how we'll get by," he told The Daily Telegraph. "I just have to get the family safe. I have to get them somewhere where they have a future and get them settled To come out and realise you're left struggling on the other side of the world with nothing is a shock."
Mr Crystal, 49, drove petrol tankers in Britain for 20 years and moved with his family to New Zealand to work for Caltex in February 2006. From 2009 he ran a painting business and a separate business installing amusement machines.
However, he was forced to stop working in 2010 after the removal of a brain tumour. At the time, he and his family, who live in the village of Onewhero, outside Auckland, were preparing applications for residency.
They were informed two months ago the application was rejected. They now face deportation when their current visas expire on December 16.
Mrs Crystal, 43, said the rejection of the residency application had been "devastating" for her three children.
"We haven't got anywhere to go," she said. "To take the kids out of New Zealand would be a wrench for them all. I don't know where we'll live
- probably the Evesham area. We would go back with nothing It is extremely stressful. It is stressful on my husband - he thinks it is all his fault because it happened to him."
New Zealand's immigration department told The Daily Telegraph it examined Mr Crystal's residency application and considered other visa categories but he failed to meet the relevant criteria.
"Mr Crystal's residence application under the Entrepreneur Category was declined after careful consideration because Immigration New Zealand could not be satisfied that he has been actively self-employed in his business for 24 months as required," a spokesman said.
"Unfortunately, Mr Crystal was also assessed as not being of an acceptable standard of health as he is likely to impose significant cost or demands on New Zealand's health services
. INZ also considered Mr Crystal's application using the criteria for the other residence categories, but he did not meet the requirements."
The family is appealing the government's decision in New Zealand's Immigration and Protection Tribunal. Mr Crystal said that he has received advice from his doctors that the cost of his treatment would not be high.
In the meantime, they have received thousands of dollars in donations as well as food and grocery vouchers from the local community after a church spread word of their plight. The community has helped to pay for tuition fees for the oldest daughter, Claire, 17, and a son, Max, as well as providing $NZ550 (£282) for the family's appeal on their residence application.
The family began to receive "emergency" welfare benefits last week after inquiries from the local media.
The immigration department said Mr Crystal and his wife could apply for temporary visas or seek support from their family abroad.
"If Mr Crystal, his wife and three children wish to continue staying in New Zealand they should apply for further visas in good time," the spokesman said.
"We note that both Mr and Mrs Crystal have immediate family living outside New Zealand. As British citizens it would be appropriate for the family to approach the British High Commission for any support they require."