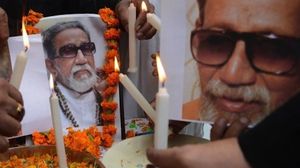 India is set to amend its hate speech laws following a public outcry over two women arrested for posting comments on Facebook after the death of hardline politician Bal Thackeray.
The new guidelines by the communications and information technology ministry will make it harder for police to arrest people who post allegedly offensive material online.
The women, both 21, were detained a week ago over comments on the social networking site questioning whether the city of Mumbai should have been effectively shut down by the authorities for Thackeray's funeral.
"Any complaint about online content that is deemed offensive will now require scrutiny by senior police officers," a telecoms ministry official who declined to be named told AFP.
"The changes have been made with the backdrop of the recent case. We realised the law needs to be changed."
A Facebook post by Shaheen Dhada on the day of the funeral for Thackeray, whose Hindu nationalist Shiv Sena party has a reputation for intimidation and violence, said that Mumbai had shut down "due to fear, not due to respect".
Renu Srinivasan "liked", and shared the post, commenting that "it doesn't make sense to shut down everything", according to reports.
The case against the two was dropped on Thursday, according to the Press Trust of India news agency.
"No charge sheet will be filed," Director General of Police Sanjeev Dayal said. "There will be a closure report."
The arrests triggered a nationwide debate, forcing the government to suspend two senior police officers and transfer a judge.
The decision by the ministry comes as there has been growing criticism of the law being misused by the police to suppress freedom of expression.
The Supreme Court on Thursday admitted a petition that demands the scrapping of a section of India's Information Technology Act that punishes sharing offensive Internet content.
In August, the government blocked inflammatory material on Facebook, Twitter, Wikipedia and some news outlets in a bid to calm ethnic tensions over migrant workers from the northeast.