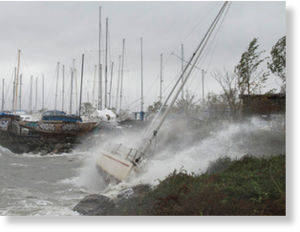 As New York City remains devastated from the destruction brought on by Superstorm Sandy, officials are optioning the installation of barriers that could prevent further catastrophes - at a cost estimated in the billions.
Now that this week's storm has proven that Manhattan and the other boroughs of New York aren't impermeable to Mother Nature, scientists are looking to find solutions that could keep another Sandy from shutting down the city. The answer, some say, might be a system of barriers jetting into the bodies of water surrounding New York that could help stop any future frankenstorms.
"With the kind of protection that has been considered so far, you cannot protect a multimillion-inhabitant city that runs part of the world economy," Piet Dirck of the Dutch engineering firm Arcadis tells the Associated Press.
Oceanography professor Malcolm J. Bowman from Long Island's Stony Brook University tells the AP that he has warned what could happen to New York for years if a storm such as Sandy moved up the East Coast. He's also advocated for a barrier and implies now that the time is finally right for officials to start heeding his call.
"The time has come. The city is finally going to have to face this," he says.
"This is not far-out science or engineering," Bowman tells AP. "This is easy to do." Even still, though, Sandy's damage might not be enough to convince bureaucrats that a solution is possible but for a pretty hefty sum.
"It could take 20 years before people even start pouring concrete," Bowman adds.
In the meantime, though, it's an option worth considering given the outcome of Sandy. On Thursday, forecasting firm Eqecat estimated the damage from the storm to be close to $50 billion, a number they say was figured in part due to the massive damages to the mass transportation system in New York, which has prevented million of residents from navigating through the city.
Three days after the storm hit New York, the death count also continues to rise. According to Bowman, another Sandy could be made substantially less powerful if a system of barriers was erected: one in the Verrazano Narrows between Brooklyn and Staten Island, shielding the Upper New York Bay, with two smaller structures aiding the effort between Staten Island and New Jersey and in the East River.
Two European engineering firms have estimated that making Bowman's barrier project a reality could cost the city around $6 billion.