A badly injured construction worker pulled from the rubble of a collapsed parking garage at Miami-Dade College early Thursday has died, police said, raising the death toll to three.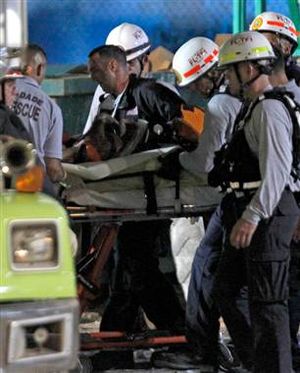 Miami fire and rescue crews rescued the construction worker around 1 a.m. Thursday at the Miami-Dade College in Doral, Fla.,Miami fire officials said. But in order to get the man out, medics had to amputate both of his legs above the knees, authorities said. Another trapped worker who had been freed was in critical condition.
Rescue workers continued Thursday to search for the last person believed to have been in the structure when it collapsed.
Eight people were hospitalized at Miami-area hospitals after the Wednesday collapse, which killed three workers, according to a statement from Miami-Dade Fire Rescue.
Hundreds of rescuers rushed to the scene Wednesday afternoon when a portion of the five-story parking garage at 38oo N.W. 115 Ave. collapsed in what authorities call a "pancake-style collapse." Police said it appeared that only construction workers were on site.
The garage was under construction and had yet to open, so no students were in danger, said college spokesman Juan Mendieta.
The debris was about 20 feet high and a crane and heavy truck were inside the work area when the garage collapsed. Street around the garage were completely blocked off.
Aerial footage showed firefighters escorting a man, who appeared to be a construction worker, out of the garage, while rescuers apparently searched through the debris.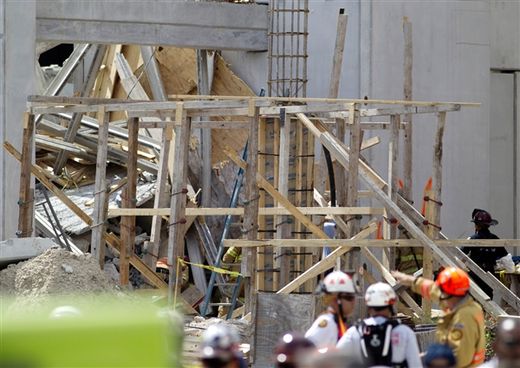 Victoria Buczynski of Miami said she saw the collapse while she was working at Gurkha Cigars directly across the street from the construction site.
"It fell to the ground like a house of cards," Buczynski said. "The construction workers started running out, screaming. It was loud. Our entire building shook."
The construction of the 1,855-space garage was nearly complete. Ground was broken on the $22.5 million project in February, and it was to be finished in December, according to the website of the contractor, Ajax Building Corp.
William P. Byrne, Ajax president and chief executive officer, said in a statement said an internal review was being launched to determine the cause.
"While we do not yet know the cause of this tragic collapse, we are committed to working actively and cooperatively with our design and construction partners and local, state and federal authorities to determine the exact cause of this accident," the statement said.
The statement also said safety was a priority for the company.