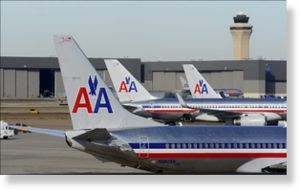 Troubles continue to mount for American Airlines, which was forced to cancel 44 flights Friday as it scrambles to fix seats in its Boeing 757s that could pop loose during flight.
The nation's third biggest airline announced that 44 flights are canceled on Friday. Fifty flights were canceled Thursday.
Airline officials said late Thursday that they had come up with a fix for the seats, and they began pulling 48 Boeing 757s out of service to make repairs. All the planes should be back in service by Saturday.
Officials said a combination of wear, poor design and even soda spilled into the tracks can cause seats to become loose during flight.
The loose seats are one of many problems facing the troubled airline.
American Airlines is trying to emerge from bankruptcy, but the management team's inability to strike a deal with its 10,000-member pilots union, along with a spate of high-profile maintenance issues is making a takeover by US Airways look increasingly inevitable. The maintenance issues are spooking passengers and undermining confidence in American just as the beleaguered company tries to battle back from the abyss.
"It really is a nasty cocktail for American Airlines to deal with," Michael Boyd, of Boyd Group Aviation Consulting, told Fox News on Friday.
American Airlines and US Airways have been in confidential merger talks for more than a month in what would potentially create an airline on the par with the world's largest carrier, United Continental Holdings. In recent days, the airline had to inspect and fix seats on 48 of its Boeing 757 jets after some became loose on three separate flights, two of which made emergency landings. The airline has long had a poor record for on-time takeoffs, and with the flying public's confidence in American Airlines waning, the leverage is on the side of US Airways, and the price could be losing altitude.
"Either they'll be forced to merge with US Airways or they'll go down in a ball of flames," said Kate Hanni, executive director of FlyersRights.org, a California-based airline passenger rights group. "It's a shame because they used to be a fantastic airline."
Roughly half of all complaints recently received by Hanni's organization have involved American, mostly pertaining to safety issues, flight delays and cancellations, she said. Hanni is now advising travelers to consider other carriers, despite the resumed talks between the airline and its 10,000 employees at the Allied Pilots Association (APA).
"Give up on American if it's near-term," said Hanni, who also suggested customers with frequent-flier miles book flights now using American Airlines partners.
The rash of loose seats, Hanni claimed, is an "inside job" by union workers determined to further the airline's decline and ultimately drive it into oblivion. She questioned the airline's explanation that clamps may have been improperly installed during maintenance work by American crews and an outside contractor, Timco Aviation Services.
"What outsourced company would be so stupid so as to not bolt down seats?" Hanni asked. "That made it very clear to me, this was definitely a PR move on behalf of the American pilots' union."
Tom Hoban, an APA spokesman, said Hanni's claim was "completely baseless" and challenged her to produce evidence incriminating union employees.
"That one turned my stomach," Hoban told FoxNews.com. "We're professionals. To insinuate that we're deliberately involved in sabotage, it turns my stomach."
Hoban said pilots are seeking an "industry standard" contract like those at Delta Air Lines and United Continental. The key issues, he said, are salary, job security provisions that prevent further outsourcing and retirement packages.
"We're simply saying we deserve what our peers are getting," he said. "The outcome of this fundamentally depends on whether this corporation understands that these pilots deserve an industry standard contract."
Bruce Hicks, a spokesman for American Airlines, confirmed that negotiations have resumed and said the parties will continue to meet to "secure a new agreement" in a statement to FoxNews.com.
"Both parties have agreed to provide the next update when we have something to share," Hicks' statement read.
The Associated Press contributed to this report.