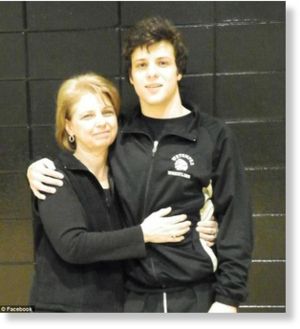 In a tragic and bizarre incident a University of Alabama student who was naked has been fatally shot after charging a campus police officer early on Saturday morning.
University officials said that the confrontation occurred after the officer went outside the police station to investigate a banging noise that was coming from his office window.
Confronted with 18-year-old Gilbert Thomas Collar who was acting erratically and wearing no clothes, the officer shot the student once in the chest after he repeatedly charged.
Authorities said that the officer attempted to retreat several times in an attempt to defuse the situation but that the officer was left with no choice but to shoot when Collar made one final charge.
Collar, who had only recently enrolled at the University of South Alabama was shot at 1.30 a.m. on Saturday moening outside the USA Police Department on Stadium Drive .
Keith Ayers, a university spokesman, spoke to the media to announced the student's identity, but would not speculate as yet whether the student was under the influence of drugs or alcohol.
'We can't comment beyond the statement,' said Ayers after he read a prepared statement during a news conference this afternoon on the campus.
Ayers said that the officer shot Collar after the teenager rushed the officer in a threatening manner and ignored his commands to stop.
'The individual fell to the ground, but he got up once more and continued to challenge the officer further before collapsing and expiring,' said Ayers.
Police said at around 1:30 a.m., a 'muscular, nude man,' was shot dead on the University of South Alabama campus.
According to a University of South Alabama press release: 'University of South Alabama Police report that an officer shot and killed an individual at approximately 1:30 a.m., Oct. 6, after the man attacked the officer just outside the police department on Stadium Drive The deceased has been identified as a USA student.'
The former high school wrestler's coach could hardly speak when interviewed by his hometown newspaper
The Wetumpka Herald
this morning.
'I remember the first time he walked into the wrestling room,' said Jeff Glass.
'He was such a natural. He was the only wrestler I coached who wrestled varsity for six years. That takes more heart than I can tell you. We began our tenure in Wetumpka wrestling at the same time. He was a physical, spiritual and mental warrior. And I love him like my own.'
According to USA's public relations office: 'Immediately after the incident, the USA Police Department contacted the District Attorney's Office to request an external investigation.
'Mobile County Sheriff's Department will assist. The officer has been placed on paid administrative leave pending the outcome of internal and external reviews.'