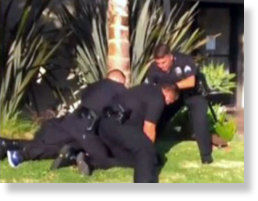 Ronald Weekley Jr., a 20-year-old skateboarder who alleges that police used excessive force when they arrested him on Saturday, has hired Benjamin Crump, the attorney representing the family of Trayvon Martin,
CBS Los Angeles reports
.
According to the Los Angeles Police Department, officers tried to stop and detain Weekley at 6:25 p.m. on Saturday after spotting him skateboarding in traffic on Sunset Avenue in Venice, a violation of the vehicle code.
CBS Los Angeles reports a cell phone video of the arrest of Weekley shows four officers on top of the skateboarder, who is face down on a lawn. It appears as though Weekley is punched in the face repeatedly by one of the officers, as the other three wrestle with him on the ground.
Crump questioned why police stopped Weekley in the first place.
"Was he stopped because he was on the wrong side of the road, or was he attacked because he was the wrong color?" Crump asked.
Crump, who's representing the family of the Florida teen shot to death by George Zimmerman, spoke at a news conference at a church in Venice on Tuesday, reported the
Los Angeles Times
.
"Officers tried to stop and detain him, and there was a use of force," LAPD spokesman Richard French said. "The suspect was arrested and booked for obstructing/resisting a police officer with force. Officers later found out that he had three outstanding warrants."
Spokesman French said the arrest "will be thoroughly investigated and reviewed at all levels," reported CBS Los Angeles.
Crump said that Weekley suffered from a concussion, broken cheekbone, and broken nose from the beating. Weekley, a student at Xavier University in Louisiana, did not appear to have any visible injuries but began crying while speaking during the news conference.
""I was opening the door to my apartment when I was attacked from behind. They grabbed my hair and my back and tried to smash my face into the ground," he said. "I started screaming and yelling because I thought I was going to die."
The next thing Weekley remembers after blacking out during the beating was being in the back of a police car, and being told that he was stopped for not stopping at a stop sign, the
LA Times
reported. Police also called Weekley a "dumb a--," Crump said.
Weekley was formally arrested on suspicion of resisting arrest and on three outstanding warrants related to curfew and bicycle riding violations and driving without a license, Crump said. He added that he wants the charges dropped and the officers involved held accountable.