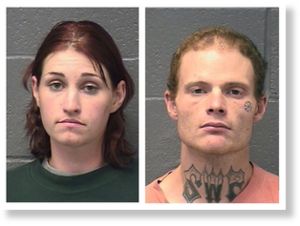 Portland, Oregon - A young couple accused of killing four people in a multistate crime spree last fall have been indicted on federal racketeering charges alleging the rampage was part of a campaign to "purify" and "preserve" the white race, the U.S. attorney for Oregon said Friday.
A grand jury handed up the indictment Thursday against David "Joey" Pedersen, 32, and Holly Ann Grigsby, 25, prosecutor Amanda Marshall said in a statement. Grigsby will be arraigned Monday in Seattle. Pedersen's arraignment in Portland hasn't been scheduled.
"The indictment in this case alleges horrendous crimes were committed as part of defendants' white supremacist campaign to kidnap and murder targets on the basis of race, color, religion and perceived 'degenerate' conduct," Marshall said.
They are charged in the killing, kidnapping and robbery of four people last fall: Pedersen's father, David "Red" Pedersen, and stepmother, Leslie "DeeDee" Pedersen, on Sept. 26 in Everett, Wash.; Cody Myers, a 19-year-old from Oregon on Oct. 1; and Reginald Clark, 53, of Eureka (Humboldt County) on Oct. 3.
Clark was black and Grigsby allegedly told investigators that Myers, a Christian, was killed because his name sounded Jewish.
The 24-page indictment charges that Pedersen and Grigsby were members of a criminal enterprise whose aim was to promote a white supremacist movement. The pair robbed their victims to finance the campaign, stole their cars to escape and murdered them to eliminate witnesses and avoid capture.
The enterprise, according to the indictment, also targeted Jewish leaders and members of prominent Jewish organizations.
Pedersen pleaded guilty in Washington to killing his father and stepmother and was sentenced in March to life in prison without the chance for parole. The federal indictment charges him and Grigsby with numerous other crimes.
Grigsby is still awaiting trial. She confessed in a five-hour videotaped interview with Oregon state police, a Washington prosecutor wrote in a court document.
The two were arrested outside Yuba City in Sutter County when a police officer spotted them in Myers' car. Authorities had been tracking them by use of stolen credit cards and had alerted police in several states.
Source: The Associated Press