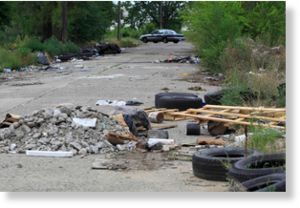 From the street, the two decomposing bodies were nearly invisible, concealed in an overgrown lot alongside worn-out car tires and a moldy sofa. The teenagers had been shot, stripped to their underwear and left on a deserted block.
They were just the latest victims of foul play whose remains went undiscovered for days after being hidden deep inside Detroit's vast urban wilderness - a crumbling wasteland rarely visited by outsiders and infrequently patrolled by police.
Abandoned and neglected parts of the city are quickly becoming dumping grounds for the dead - at least a dozen bodies in 12 months' time.
And authorities acknowledge there's little they can do.
"You can shoot a person, dump a body and it may just go unsolved" because of the time it may take for the corpse to be found, officer John Garner said.
The bodies have been purposely hidden or discarded in alleys, fields, vacant houses, abandoned garages and even a canal. Seven of the victims are believed to have been slain outside Detroit and then dumped within the city.
It's a pattern made possible by more than four decades of urban decay and suburban flight. White residents started moving to burgeoning suburbs in the 1950s, then stepped up their exodus after a deadly 1967 race riot. Detroit's black middle class followed over the next two decades, leaving block after block of empty homes.
Over time, tens of thousands of houses deteriorated. Some collapsed, others were demolished. Empty lots gave way to block-long fields.
Jacob Kudla and Jourdan Bobbish were found July 27 in a field off Lyford Street, a lonely road that borders an industrial area and a small municipal airport. The teens from suburban Westland, 18 and 17, respectively, had been visiting Kudla's uncle in Detroit when they disappeared July 22.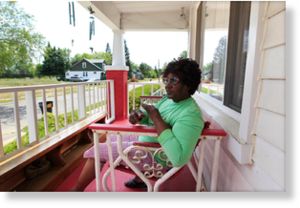 Their corpses were found by someone walking along the desolate block. The closest house, about 100 yards away, belongs to 74-year-old Ella Dunn.
Over the last 24 years, she has watched nearly all her neighbors move out. Now she constantly hears people dumping tires, furniture and trash.
"They drive down and push stuff out," she said.
A nearby parking lot resembles a small landfill for junk - a coloring book based on Bible characters, a yellow toilet, furniture, shoes and five boats.
"Detroit is a dumping ground for a lot of stuff," said Margaret Dewar, professor of urban and regional planning at the University of Michigan. "There is no one to watch. There is no capacity to enforce laws about dumping. There is a perception you can dump and no one will report it."
In mid-July, the decapitated bodies of a couple were pulled from the Detroit River and a nearby canal. Authorities say they were shot and dismembered in their home in suburban Allen Park, then driven to a little-used Detroit park and dumped in the water. A man who lived with them is charged in the slayings.
The bodies of two Hamtramck women were discovered in March buried in a neglected Detroit park. Five men are accused in the murders.
Back in December, the bodies of two women were found in a car parked near a vacant house. Six days later, the badly burned remains of two other women turned up in a car trunk. Police believe all were killed elsewhere and dumped in Detroit. A man from suburban Sterling Heights has been charged.
Detroit has more than 30,000 vacant houses, and the deficit-strangled city has no resources of its own to level them. Mayor Dave Bing is promoting a plan to tear down as many as possible using federal money. The state is also contributing to the effort.
But it's hard to keep up. About a quarter-million people moved out of Detroit between 2000 and 2010, leaving just over 700,000 residents in a city built for 2 million.
Census figures from two years ago show 793 people living on Lyford and the other 20 or so streets near the Coleman A. Young airport. Two decades earlier, about 2,900 people lived there.
Dunn's modest home is one of only three on the block that are still occupied.
"I couldn't move if I wanted to," she said. "They don't want to give you any money for your house."
On Tuesday, a patrol car slowly rolled by. Officers are more visible after the teens' bodies were found, Dunn added.
A larger police presence is needed across the city, but Detroit can't afford to hire more. The city recently cut police pay by 10 percent.
When he joined the department 13 years ago, Garner patrolled a 3.6-square-mile area in the tough 3rd Precinct, bumping into another officer every 20 minutes. Now he covers 22 square miles and crosses paths with other officers "maybe once every two hours."
"If we know this, the criminals know this," Garner said.
Sparse patrols and slow response times make it less likely that someone will be seen dumping a body.
"Years back, people would go to rural areas" to dump bodies, said Daniel Kennedy, a Michigan-based forensic criminologist. "Now we have rural areas in urban areas."
Detroit's reputation as a violent city with one of the highest crime rates in the country also works against it.
The body of a woman from wealthy Grosse Pointe Park was found in January in her Mercedes-Benz SUV in a Detroit alley. The marketing executive was apparently killed in the garage of her upscale suburban home, but left in the city. A family handyman has been charged.
If a body shows up in Grosse Pointe, Kennedy said, "those officers are sitting around waiting for something to happen, and they are all over it."