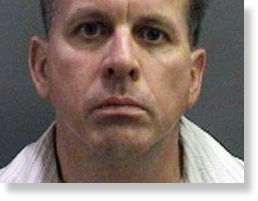 Santa Ana, California - When his son killed himself after being punished by his high school for stealing, pharmaceutical sciences professor Rainer Reinscheid was angry.
He blamed the Irvine school's treatment of his son for the teen's death - and the next month, wrote emails describing in graphic detail a plan to buy guns, murder students and administrators, carry out sexual assaults, burn down the school and kill himself, authorities said.
Now, the 48-year-old is being held without bail as prosecutors say the professor who has spent more than a decade at University of California, Irvine is a danger to society.
Prosecutors have charged Reinscheid with five counts of arson and one count of attempted arson for lighting objects ranging from newspapers to brush to a plastic porch chair at the park where his son hanged himself in March, University High School and the home of the assistant principal.
"They appear directly related to feelings of anger that he had over the treatment of his son, which he believes led to his son's killing himself," deputy district attorney Andrew Katz said on Tuesday.
"He is accused of setting these fires and he is accused of writing graphic, detailed emails in which he laid out plans to purchase guns, murder unnamed students and named administrators, burn the school to the ground and commit acts of sexual assault and kill himself," he said.
Reinscheid - who is also charged with a misdemeanor account of resisting or obstructing a police officer - appeared in a jailhouse courtroom in Santa Ana briefly Tuesday afternoon wearing an orange jail jumpsuit. His arraignment was postponed until August 8.
Television cameras clustered in the viewing area to cover the proceedings. Defense attorney Ron Cordova was not immediately available after the hearing, but told the judge in court that he didn't want his client to "suffer from a media circus."
Phone messages left for Cordova and at a home number listed in Reinscheid's name were not immediately returned.
Prosecutors, who believe Reinscheid acted alone, could not immediately say whether authorities had thwarted an attack on a public high school or uncovered the ramblings of a man over email to his wife.
"We believe that it's credible enough (where)... we want to keep him in custody," said Farrah Emami, a spokeswoman for the Orange County district attorney's office.
The case dates back to March when Reinscheid's son, whose name has not been released, was disciplined for a theft in the student store and was punished with trash pick-up duties at lunch, said Ian Hanigan, a spokesman for the Irvine Unified School District.
"It was a relatively minor offense that didn't rise to suspension or expulsion," Hanigan said.
The teen committed suicide shortly thereafter at a park adjacent to the high school. The Orange County Register reported that the 14-year-old's body was found by a maintenance worker and that the coroner ruled the cause of death was asphyxiation due to hanging by suicide.
Reinscheid was arrested at the park on July 24 when Irvine police, who had stepped up area patrols because of a recent series of fires, said they saw him trying to ignite another one.
He posted $50,000 bail and was released.
Later in the week, detectives were able to link Reinscheid to the fires set earlier in the month and found emails on his cellphone sent to his wife and himself in April that detailed his plan to attack the school. On Friday night, Reinscheid was arrested again.
"The emails by themselves do not support a criminal charge but they do support our argument that he should be denied bail because he's dangerous," Emami said.
If convicted, Reinscheid could face nearly 13 years in prison.
Irvine Unified School District Superintendent Terry Walker expressed gratitude to the city's police department for making the arrest. He said district officials would cooperate in any way they could.
"These are extremely disturbing allegations, particularly as they involve the potential safety of both students and employees," Walker said in a statement.
Reinscheid has been at UC Irvine for about a dozen years, said university spokeswoman Cathy Lawhon. The campus on Tuesday said it was fully cooperating with authorities.
According to UC Irvine's website, Reinscheid's research included studying molecular pharmacology and psychiatric disorders, including studies of schizophrenia, stress, emotional behavior and sleep.
Neighbors say Reinscheid was a comparative newcomer to the tree-lined cul-de-sac of cookie-cutter houses where a number of UC Irvine faculty members, current and retired, live within walking distance of campus.
Neighbor and retired math professor George Miller said Tuesday that he only spoke to Reinscheid once, and other neighbors still refer to Reinscheid's Spanish-tiled home as "the Reines house."
That's because the home was previously owned by Frederick Reines, UC Irvine's physics professor who was awarded a Nobel Prize in 1995 for his work with Clyde Cowan in detecting the neutrino, Miller said.
Located about 30 miles southeast of Los Angeles, Irvine is home to more than 223,000 people. Its top employer is the University of California campus that was founded there in 1965.
The Orange County city touts itself as being the safest big city in the country based on FBI crime reports.
--
Associated Press writers Greg Risling and Shaya Mohajer contributed to this story.