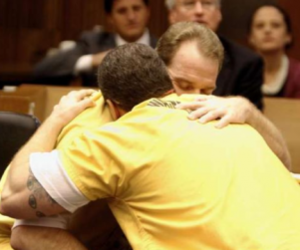 Raymond and Thomas Highers have been in jail, since 1987, for the murder of Robert Karey, who was shot dead at his home.
However, they may be set free due to a Facebook post by an old friend named Mary Evans.
Evans told
Fox Detroit
what she wrote on the Northeast Detroit Alumni Facebook page in 2009: "All I said was it's too bad or it's sad that the Highers brothers are in prison for life, and that there just started this domino effect."
Apparently, another classmate, who saw the Facebook post, recalled hearing that someone else had committed the murder and tried to find witnesses.
Judge Lawrence Talon, on Thursday, reversed the brother's convictions after "credible and reliable" new evidence surfaced from some [then] teens, who said they were in a car outside Karey's house the night he was shot.
Two of the witnesses said they were there to buy marijuana, but were pushed away by some black men who ordered them to "Get the f--- out of here!"
One of the witnesses said that he also heard a gunshot.
Michael Highers told the
Detroit Free Press
: "It's overwhelming. I just wish my mom would have been here to see it . . . It's the truth. It took 25 years to get here, but it's the truth. She knew that her boys didn't do it. She went to her grave believing that."
The brothers will remain in jail until a bond hearing on August 13.