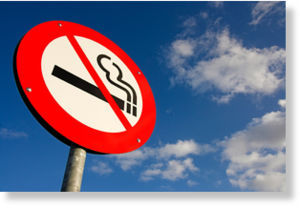 The ability to light up a cigarette in Santa Monica is about to go up in smoke for many residents of the coastal town outside of Los Angeles. The city's board voted this week to soon impose a ban inside the homes of local tenants.
If you rent or lease your residence in Santa Monica, things could soon be very different. Tuesday's 4-2 vote means that a smoking prohibition across the city will be extended to include all newly condos and apartments for new tenants. Additionally, the legislation includes a provision that will force property owners to designate their homes as either smoking or non-, letting them decide if even their current residents - even those who have spent their life in certain properties - can continue to smoke.
"Under the proposed law, current occupants of apartments and condominiums would be able to choose either smoking or non-smoking status for their dwelling unit," city officials explain. "If a unit is designated non-smoking, then smoking would thereafter be prohibited in that unit. If a unit is vacated (including a smoking unit), the unit's designation would be non-smoking for the next occupant and thereafter."
Santa Monica resident Jennifer Jones tells NBC News, "I really don't think they should be telling people what to do if they are paying for the place they're living in." Even though she says she can smell her neighbor's cigarette smoke through the walls that separate their apartments, she says "it's a little too much control."
Others, such as property owners, see problems too. "What do I do if I'm a landlord?" council member Pam O'Connor says, dissenting from the majority. "I start to think of creative ways to encourage that person to move. I've spent my whole time on the city council trying to make sure that renters in this town don't get encouraged to move for one reason or another."
City officials say that this is exactly what is needed, though, to keep the rest of Santa Monica attractive to others.
"The primary purposes of the requirements would be to provide information to those making decisions about where to live, and to decrease exposure to second-hand smoke in residential properties," the city offers in a statement.
"People have come to testify to city council about asthma problems, people who had no prior health problems who developed health problems because their neighbors smoke," Adam Radinksy of the Consumer Protection Unit in Santa Monica says.He predicts that in just a few months of the act being put on the books, there will be a "great improvement in public health."