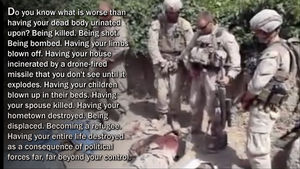 The U.S. Marine Corps took a first, formal step on Friday toward possible charges against four Marines who, in a widely circulated video, appear to be urinating on the bodies of dead Taliban fighters in Afghanistan
.
It named a lead investigating officer whose job will include deciding what charges, if any, would be brought against the four men, all of whom have been identified, a Marine Corps official told Reuters, speaking on condition of anonymity.
The move came as a top U.S. and NATO commander in Afghanistan ordered troops to "treat the living and the dead with dignity and respect."
"Defiling, desecrating, mocking, photographing or filming for personal use insurgent dead constitutes a grave breach of the (law of armed conflict)," Lieutenant General Curtis Scaparrotti, who heads day-to-day Afghan operations, wrote in a letter to troops dated January 12 and seen by Reuters on Friday.
The Pentagon has acted quickly to respond to the video, a move Defense Secretary Leon Panetta and other top U.S. officials hope will limit the fallout.
The video is likely to stir up already strong anti-U.S. sentiment in Afghanistan after a decade of a war that has seen past cases of abuse. That could complicate efforts to promote reconciliation as foreign troops gradually withdraw, although a Taliban spokesman said on Thursday it would not harm nascent efforts to broker peace talks.
The video, posted on YouTube and other websites, shows four Marines in camouflage combat uniforms urinating on three corpses. One of them jokes: "Have a nice day, buddy." Another makes a lewd joke.
Reuters has been unable to verify the dead men were indeed Taliban fighters but the Marine Corps said the video appeared to depict "several dead Taliban."
Afghan President Hamid Karzai has condemned the video, describing the men's actions as "inhuman" and calling for an investigation.
None of the suspects has been detained, the Corps official said. At least two are still part of the same unit involved in the video - the 3rd Battalion, 2nd Marines, based out of Camp Lejeune in North Carolina, a second official told Reuters.
That unit served in Afghanistan's Helmand province from March to September 2011, the second official said.
Marine Corps Commandant General James Amos said in a statement on Friday he would not "rest until the allegations and the events surrounding them have been resolved."
Expanding Investigation
Panetta telephoned Karzai to denounce the behavior in the video as "deplorable," and General Martin Dempsey, the top U.S. military officer, said the actions depicted were illegal.
It is likely others will be brought into the investigation, including the person who filmed the desecration of the dead and whoever else may have been watching off-camera.
The Corps said the lead investigating officer, known as the "Consolidated Disposition Authority," was Lieutenant General Waldhause, the commander of Marine Corps Forces Central Command.
"The danger obviously is this kind of video could be misused in many ways not only to undermine what we are trying to do in Afghanistan but undermine the potential for reconciliation. There is a danger there," Panetta told reporters on Thursday.
"But I think if we move quickly - if we conduct this investigation and hold these people accountable - we send a clear signal to the world that the U.S. is not going to tolerate that kind of behavior and it doesn't represent the United States as a whole."
Officials told Reuters the Marine Corps is confident the video is authentic.
News of the footage had yet to really spread in Afghanistan - a country where a minority has access to electricity and the Internet is limited to a tiny urban elite.
Anti-American feeling has boiled over or been whipped up into violence several times in Afghanistan in recent years. Protests over reports of the desecration of the Muslim holy book have twice sparked deadly riots.
Editing by John O'Callaghan