About hobbyhorse I am a Christian mystic who lives in the mountains of Colorado. I am married to a lovely woman who looks after me.
I was an activist for a number of years but the masses just wont wake up. I now focus my energies on the spiritual things. I have been given the gift of seeing into the realm of the spirits. I have documented this with high def. photography and can teach this way of seeing. Of course this scares the crap out of everyone but at least they now leave me alone.
I really enjoy your web site with its eclectic mix of articles and insights.
Thank you,
B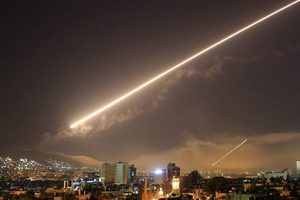 Syrian air defense systems protecting Damascus - the oldest continuously-inhabited city on Earth - from Western airstrikes, 14 April 2018
In the Truth there is no news, and in the News there is no truth
- Popular Russian saying under Soviet Communism
Recent Comments
Something reeks, but it's societies fear of sexuality. When you deny sex ed, teen pregnancies and STDs rise. Children need to know, and sex needs...
---
West is sicko. Needs psychiatrist's help. Check this pix [Link] [Link] [Link]
---
Looks like Sargsyan gave into the pressure. [Link]
---
Win 52 ... YES. As a neighborhood mom, I realize if it was just price, our kids would be bugging us nonstop for it ... but they aren't. Maybe the...
---
Paradoxically, there is something very un-insightful yet revealing about this statement: "Polls are not the one to tell you where you have to go...