Israel has refused to reassure President Barack Obama that it would warn him in advance of any pre-emptive strike on Iran's nuclear capabilities, raising fears that it may be planning a go-it-alone attack as early as next summer.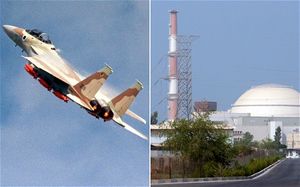 The US leader was rebuffed last month when he demanded private guarantees that no strike would go ahead without White House notification, suggesting Israel no longer plans to "seek Washington's permission", sources said. The disclosure, made by insiders briefed on a top-secret meeting between America's most senior defence chief and Benjamin Netanyahu, Israel's hawkish prime minister, comes amid concerns that Iran's continuing progress towards nuclear weapons capability means the Jewish state has all but lost hope for a diplomatic solution.
On Tuesday, UN weapons inspectors released their most damning report to date into Iran's nuclear activities, saying for the first time that the Islamic republic appeared to be building a nuclear weapon. It was with that grave possiblity in mind that Leon Panetta, the US defence secretary, flew into Israel last month on what was ostensibly a routine trip.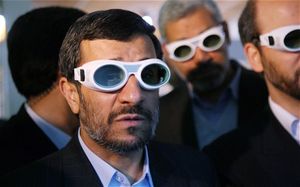 Officially, his brief was restricted to the Middle East peace process, but the most important part of his mission was a private meeting with Mr Netanyahu and the defence minister, Ehud Barak. Once all but a handful of trusted staff had left the room, Mr Panetta conveyed an urgent message from Barack Obama. The president, Mr Panetta said, wanted an unshakable guarantee that Israel would not carry out a unilateral military strike against Iran's nuclear installations without first seeking Washington's clearance.
The two Israelis were notably evasive in their response, according to sources both in Israel and the United States.
"They did not suggest that military action was being planned or was imminent, but neither did they give any assurances that Israel would first seek Washington's permission, or even inform the White House in advance that a mission was underway," one said.
Alarmed by Mr Netanyahu's noncommittal response, Mr Obama reportedly ordered the US intelligence services to step up monitoring of Israel to glean clues of its intentions.
What those intentions might be remains distinctly murky. Over the past fortnight, Israel's press has given every impression that the country is on a war footing, with numerous claims that Mr Netanyahu and Mr Barak are lobbying the cabinet to support the military option.
Two weeks ago Israel tested a long-range ballistic missile capable of reaching Iran, its first since 2008. Shortly before, the Israeli airforce took part in Nato exercises in Sardinia that involved air-to-air refuelling, a key component of an aerial strike on Iran. A separate exercise in and around Tel Aviv tested civilian readiness in the event of a missile strike against the city. In a sign of the febrility of the public mood, many beach-goers apparently mistook the air raid sirens for a genuine Iranian attack and fled in panic for their cars. There were similar jitters in Iran yesterday, when a huge but apparently
accidental explosion at arms dump
outside Tehran killed at least 27 soldiers and shook the city.
Speculation about an imminent Israeli military action has been a regular occurrence over the years, but rarely as fevered as now. Last week, a British official even suggested that an attack could come before Christmas.
Few in Israel believe that is likely and the difficulty of mounting an operation over winter, when cloud cover hampers aircraft targeting systems, means that if military action is being considered it will not come before the spring or summer of next year.
Many observers also believe that the bellicose rhetoric voiced by a number of senior Israeli figures in recent days is largely bluff, designed to goad the international community into imposing sanctions of such severity that Iran would be forced into economic ruin if it persisted with its nuclear ambitions. Israel says that if Iran's central bank were sanctioned and a ban on Iranian oil exports enforced by an international naval blockade, military action would not be necessary.
Mr Barak has already publicly stated that he does not believe the West can overcome Russian and Chinese opposition to the sanctions Israel wants, leaving military action increasingly as the only alternative.
Mr Netanyahu may have another reason to bluff. In recent months, Meir Dagan, who retired as director of Mossad at the beginning of the year, has made a series of unprecedented speeches countenancing against Israeli military action - describing it as "the stupidest idea I've ever heard".
His comments have infuriated the Israeli establishment - senior officials have said they would like to see him behind bars - because they fear it could convince Iran's Mullahs that Israel's sporadic talk of war is a fiction.
Hints by Mr Netanyahu that he is considering the military option may be designed to resurrect Iran's paranoia of Israel, something seen in the Jewish state as a powerful deterrent, says Yossi Melman, a leading intelligence analyst and journalist.
"Meir Dagan made a laughing stock of military action," Mr Melman said. "Netanyahu believes he damaged the deterrent and he wants to repair it."
Yet the fact that Mr Dagan chose to speak out - extraordinary in itself for a just-retired Mossad chief - suggests that he believes Mr Netanyahu is intent on attacking Iran.
Tellingly, until last year, Israel's four most powerful military and security chiefs, including Mr Dagan, were all strongly opposed to military action. All four have now been replaced by younger men who may be less able to stand up to Mr Netanyahu, not that Israeli prime ministers are necessarily bound to heed objections from their top military advisers anyway. In 1981, Menachem Begin did just that when he bombed Iraq's nuclear reactor at Osirak.
If Israel is to attack Iran, many in the country believe time is running out. Last week's report by the International Atomic Energy Agency (IAEA) highlighted Iran's apparent determination to build a nuclear warhead, but did not indicate how long it might take.
Some in Israel, however, believe it is very close.
"It is my personal opinion that, if the Iranian regime decides to do so, it can produce a nuclear explosive device within a year, plus or minus a few months," said Ephraim Asculai, a former IAEA official and leading Israeli expert on Iran's nuclear programme.
Not everyone agrees. Some argue that a covert espionage operation has caused such delays that Iran still needs another three years to build a bomb. Sabotage efforts by Israeli, American and British intelligence have successfully slowed Iranian progress, most notably via the Stuxnet computer virus that caused the centrifuges at Iran's Natanz uranium enrichment plant to explode. Mossad agents on motorbikes are also believed to have planted magnetic explosives on the cars of at least two key Iranian nuclear scientists as they weaved through Tehran's traffic jams. Mohsen Fakhrizadeh, the scientist and Revolutionary Guards officer who is thought to be the ultimate mastermind of the nuclear programme, is now believed to be under round-the-clock protection as a result. But, whatever the time frame, some in Israel believe there is additional cause for urgency that could prompt military action sooner rather than later.
According to western intelligence assessments, Tehran is preparing to move the bulk of its nuclear production to a plant beneath a mountain near the holy city of Qom that would be far harder to hit from the air.
According to Ronen Bergman, senior military analyst for Israel's
Yediot Ahronot
newspaper and the author of a forthcoming book on Mossad, that makes a strike necessary well before Iran actually perfects its programme.
"Today Israeli intelligence talks of what is known as the 'framework of immunity'," he said. "In other words, it is not the point at which Iran acquires a nuclear device, but the point at which the project has reached such an advanced stage that a strike any time after would be ineffective."
An Israeli attack could probably manage at most a dozen targets, using more than 100 F-15 and F-16 aircraft.
Three German-designed Dolphin submarines equipped with conventional cruise missiles could also be ordered into the Persian Gulf to take part, although it is thought that Israel's Jericho-3 ballistic missiles are to inaccurate to play a role.
But how effective the mission would be is another matter. At best, Israel can hope to delay Iran from building a bomb by two to four years, experts assess. Optimists hope that within such a period, Iran's Islamist regime could collapse and give may to a more moderate government. But it could equally redouble its nuclear efforts, this time arguing that it now had every right to produce a weapon.
As Mr Panetta warned during a Pentagon briefing last Thursday, such a strike would also have a "serious impact" on the region. Iran could blockade the Straits of Hormuz, through which 25 per cent of the world's oil exports are shipped, sending energy prices soaring. US military assets in the Gulf could come also come under attack from Iranian Scud missiles.
Iran would almost certainly fire its Shahab ballistic missiles at Israeli cities and press Hizbollah and Hamas, the militant Islamist groups it funds and equips, to unleash their huge rocket arsenals from their bases in Lebanon and Gaza.
Despite this, last week Mr Barak - making a rare venture in such sensitive territory - predicted that fewer than 500 fatalities would arise "
if people stayed at home
".
Such are both the political and military risks involved that many Israelis say it is inconceivable that Mr Netanyahu would go to war without the United States alongside him.
"I think personally that if such action is taken, there will be come kind of consultation with the United States," said Ilan Mizrahi, Mossad's former deputy director and Israel's national security adviser until 2007.
"If Iran breaks all the rules, then military action will be needed, but definitely not alone by a tiny country like Israel," added Uzi Eilam, a retired general who held senior positions at the Israeli defence ministry.
But not everyone is so sure. Mr Obama's willingness to take on Iran militarily is openly questioned in Israel. And while many Israelis do not believe Iran has any intention of actually firing a nuclear missile at them, the the key question is whether their prime minister is one of them.
In Mr Netanyahu's eyes, Iran's president, Mahmoud Ahmadinejad, is another "Hitler" whose aim is to complete what the Holocaust failed to do by wiping out the Jewish race.
"People outside Israel don't understand how profound memories of the Holocaust are, and how they affect future policy making," said Mr Bergman, the military analyst. "At the end of the day, this policy of 'never again' would dictate Israel's behaviour when intelligence comes through that Iran has come close to a bomb."