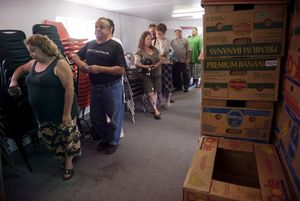 Terry Bradburn, a 64-year-old widow, was No. 176 in line at Liberty Ministries Christian Fellowship's food pantry in North Sacramento on a recent Thursday, waiting for her allotment of salad mix, fresh pineapple, dried and canned beans, bagels and coffee cake.
"The line is short today," she said. "The big crowd already came through."
Her brother, Vincent Venezia, was right behind her, No. 177. He lost his caregiver job a year ago. Now, at 60, he lives part of the time with his sister in her Rio Linda home. And part of the time, he said, he lives on the American River.
"He went from doing good to dirt poor," his sister said.
In Sacramento and across the country, people 60 and older represent the fastest-growing demographic asking for charitable handouts of food.
In the parlance of experts, they are among the "food insecure," the growing number of Americans, including 5 million older adults, for whom nutritious meals are either inaccessible or unaffordable.
In the land of plenty, where one-third of adults are considered obese, many seniors are at risk of going without food.
"It comes as a surprise to most people that seniors are going hungry," said Dr. James Ziliak, director of the University of Kentucky's Center for Poverty Research. "People think we conquered hunger with the War on Poverty back in the 1960s.
"But we're not talking about pockets of malnutrition like we were back then. We're talking about individuals and households experiencing substantial financial stress, which translates into an inability to feed themselves and results in poor health outcomes."
The number of older adults receiving assistance from Sacramento County's 140 charitable food programs each month increased 30 percent - compared with 24 percent for all adults - from 2009 through August 2011, according to California Emergency Foodlink statistics.
"It's the economy," said River City Food Bank executive director Eileen Thomas. "For the elderly, the cost of living has gone up, but their income hasn't changed."
Because of increasing demands on their fixed incomes, bankruptcy filings for people 65 and older have more than doubled in the past 20 years, according to the National Consumer Bankruptcy Project.
They're strapped.
"This generation never put a hand out before," said Thomas. "They probably have more pride than anybody else. It's difficult for them to say, 'I need help.' "
As a result, too many seniors make a quiet choice about what's really necessary for daily survival: Should they pay for prescription medications or food?
For Venezia, the choice means going without his blood-pressure medicine. For Bradburn, it means not purchasing the testing strips to help monitor her diabetes.
"I know when my blood sugar drops," she said. "You get the shakes real bad."
And for Frances Grace, 63, a retired licensed vocational nurse from North Sacramento who picks up food every month at River City Food Bank, it means juggling priorities.
When her eyesight worsened and she needed new glasses, she said: "I had to pay out of pocket. But what else can I do? I didn't pay my light bill, so I could get my glasses. Coming to the food bank is the only way I can make ends meet."
AARP Public Policy Institute figures show that the number of older Americans in danger of food insecurity jumped from 4.7 percent to 10.1 percent between 2006 and 2008, only midway through the nation's economic crisis.
At statistically greatest risk, said Ziliak, are African American seniors, older adults raising their grandchildren and those without college degrees. The stress of food insecurity takes a toll on their health.
"We find they report low health in general," he said. "A food-insecure 65-year-old has comparable activities of daily living to a food-secure 79-year-old. Not having food ages you 14 years."
The Meals on Wheels by ACC program, which serves 450,000 meals to Sacramento County seniors each year, can provide only part of the solution.
"We know we're not able to meet all the need in the county," said Donna Yee, the Asian Community Center's chief executive officer. "We encourage people to get connected to food closets in churches."
And so Bradburn, whose 90-year-old father lives with her, makes the rounds of the few food pantries available to people living in her ZIP code.
So does Virginia Rohde, who just a few years ago thought she and her husband, a Sacramento city retiree, were doing well financially. They had his government pension, and their four-bedroom house in Elverta was almost paid off.
Then they refinanced the house, fell behind on payments and ended up living in a motel. Now they're in a rental house, scraping by, and Rohde spends her Thursday mornings standing in line at the food pantries at Liberty Ministries and Rio Linda United Methodist Church.
"My husband worked and made good money," said Rohde, 62. "I never thought I'd be in this predicament."