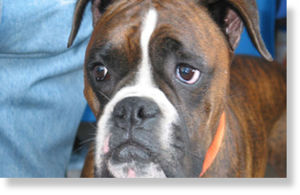 A family in San Mateo, California
is expressing outrage
that police shot and killed their two dogs after they escaped and started barking at children in a park.
Carla Torres, 38, says her two boxers, a female named Bella and a male named Jordan, may have been loose and loud at Laurie Meadows Park, having escaped out a side gate at her home, but that there was no reason for officers to shoot them.
Police Shot Both Dogs
From
The San Francisco Chronicle
:
The incident happened on Monday, when a "frantic" citizen called 911, reporting that "two vicious boxer-type dogs" were at the park growling at people, including a group of small children practicing soccer, said police Sgt. Dave Norris.
Officers arrived and saw that the dogs were "behaving in an increasingly threatening manner, creating a clearly dangerous environment toward the officers and others in the park," Norris said.
As other officers cleared people from the park, an officer tried to use a Taser shock weapon on one of the dogs, but it didn't stop the dog.
Without waiting for animal control to arrive
, the police shot both dogs, killing Jordan and wounding Bella, who was later euthanized.
Two Differing Points Of View
Police have described the dogs as vicious and said they were threatening another dog and a child. They say animal control was called, but the situation escalated too quickly, forcing officers to open fire. They say they had no choice but to use their weapons.
Torres says she's sorry that kids got scared at the park, but points out that the pair of year-old dogs, who were from the same litter, hadn't bitten anyone at the park. In fact, no people were injured in the incident.
So why didn't the cops wait until animal control arrived?
"
They Were Wonderful Dogs
"
Her daughter, Cheyenne Torres, 13,
said this
was the first time the dogs had escaped.
"They were wonderful dogs," Cheyenne said. "Bella was shy. She was really quiet. She wouldn't hurt a fly, and Jordan, he was really hyper and he would bark more than Bella. He was so loving."
A sad and disturbing story of two unnecessary deaths.
What do you think?