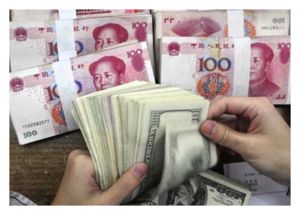 As China tries to put the brakes on inflation, a tightening credit market has many businesses turning to what
Reuters describes
as the country's "vast and growing informal lending market."
But, with annual interest rates
as high as 200%,
"many business owners who were believed to be having trouble paying back loans to underground banks have disappeared,"
according
to Yu Ran of
China Daily.
One of the "disappeared," Wenzhou eyeglass factory owner Hu Fulin, suddenly vanished on September 21.
"We've confirmed that Hu has disappeared, and we're still not sure whether the rumors saying he left more than 2 billion yuan in debts behind are true," a government official told Yu. "But current information has proved that he borrowed about 130 million yuan from private lenders."
Hu's suppliers in Wenzhou, which the
People's Daily calls
"the cradle of China's private economy," are in "a panic" and "gathered in his factory demanding payments." And angry employees protested to demand the two months' salary they are owed, as well.
But, like the
28 other debtors who have fled
in the face of unpayable loans, Hu is now nowhere to be found.
Quoting a Wenzhou People's Bank report from July, the
Epoch Times says
"around 90 percent of families and 60 percent of businesses are involved in the private lending market."
Perhaps unsurprisingly, much of the money circulating underground has been injected into the system by corrupt government officials.
As the Xinhua news agency reported (via
Shanghai Daily,
via
China.org.cn
) yesterday, "Money from government officials has been found to be involved in many cases of illegal loans to business owners who are now fleeing the area after finding they are unable to pay back the money."
"Those officials are now trying to get their money back while keeping a low profile to avoid too much attention," one unnamed
underground lender said.
An editorial in
China Daily
has some stern words for the businesspeople involved in the Chinese grey financial markets:
All profitable ventures entail some responsibilities which company officials, especially bosses, are obliged to fulfill. Some businesspeople in Wenzhou have not done so and thus harmed overall economic development, although the local supervision department considers them "individual cases" of failure.
Regardless, the
Financial News
reports that the Industrial and Commercial Bank of China, Agricultural Bank of China, Bank of China and China Construction Bank -- China's four largest state-owned financial institutions -- have "seen large outflows of deposits" during the first half of the month.
Withdrawals by cash-strapped businesses trying to pay down debt?
Nope.
According to china.org.cn,
"Available data and anecdotal evidence indicate a considerable amount of these deposits is being used by private lenders to extend high-interest credit lines to investment and finance companies."