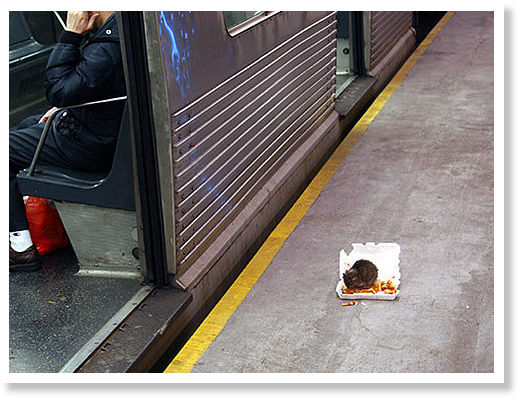 A hungry rat chomped on a straphanger's foot as she waited for a train in a downtown subway station, transit sources said.
The woman was sitting on a bench on a J train platform inside the Brooklyn Bridge-City Hall station about 9:30 a.m. Monday when the rodent skittered up to her and bit down on her flesh, the sources said.
Bleeding from the wound, the woman ran to a nearby service booth and asked for help - completely freaking out.
"She was pretty frantic and upset," a transit worker said. "You could actually see the bite."
The woman, who is in her 20s, was taken to New York Downtown Hospital, where she was treated and released, authorities said.
The subway rat attack was unusual, the sources said, particularly because the J train platform at the station has a low rodent population. The platforms in the station for the 4, 5, 6 trains, however, are a complete "rat fest," one source said.
"I've heard of rats running over people's feet," the transit worker said, referring to the 4, 5, 6 platforms. "But I've never heard of anyone actually bit."
Transport Workers Union Local 100 officials and workers said more rats are surfacing because garbage collection is not as frequent as it should be and trash storage rooms aren't adequately sealed.
MTA officials had no comment.