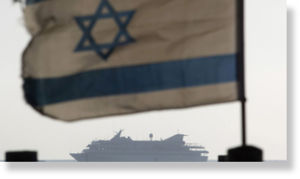 Turkey expelled Israel's ambassador and will cut military ties with the country over its refusal to apologize for last year's deadly raid on a Gaza-bound aid flotilla, officials said Friday, further straining a relationship that had been a cornerstone of regional stability.
Turkey's move came before the anticipated publication Friday of a UN report about the Israeli raid, which killed nine activists. The breakdown in ties also raised concerns that other countries, including Egypt and Jordan, may follow suit by recalling ambassadors and increase Israel's alienation in the region.
"If this ends with Turkey, it will be a miracle," said Alon Liel, a former Israeli ambassador to Turkey. "There is a lot of internal pressure in Egypt, and Turkey could use its clout in the Arab and Muslim world to pressure other nations to follow suit."
Relations between Turkey and Israel were once close - Turkey had mediated several rounds of indirect negotiations between Israel and Syria in 2008, but the talks made no significant headway and were suspended following the Israeli military offensive in Gaza the following year.
Ties have soured further in recent years and deteriorated sharply after the flotilla bloodshed on May 31, 2010. The Israeli ambassador's expulsion is the most significant downgrading in ties between the two countries.
The Turkish decision increases Israel's isolation at a sensitive time. Israel faces turmoil in ties with another longtime regional ally, Egypt, where longtime leader Hosni Mubarak was deposed earlier this year and where there have been growing calls to revoke the three-decade-old Egypt-Israel peace agreement. Last month, Egypt briefly threatened to withdraw its ambassador from Israel after a shooting in southern Israel left five Egyptian soldiers dead.
It also comes as Israel seeks to muster international support against an attempt by the Palestinians to have their state recognized at the UN later this month.
The UN report on the flotilla raid, obtained by
The New York Times
and posted on its website, said Israel's naval blockade of Gaza is a "legitimate security measure." But it also said Israel's use of force against the flotilla was "excessive and unreasonable."
An Israeli official said the report showed Israel's naval blockade was in keeping with international law. He spoke on condition of anonymity because the report had yet to be officially released. He said Israel expected it to be made public by the UN later Friday.
Turkey has made an Israeli apology a condition of improving diplomatic ties. Israeli officials say the report does not demand an Israeli apology, recommending instead that Israel should express regret and pay reparations.
Asked to comment on the UN report's suggestions, Turkish President Abdullah Gul said: "To be frank, the report is null and void for us."
Foreign Minister Ahmet Davutoglu said the government was downgrading diplomatic ties with Israel to the level of second secretary and that the ambassador and other high-level diplomats would leave the country by Wednesday.
He said all military agreements signed between the former allies were also being suspended. In other measures, Mr. Davutoglu said Turkey would back flotilla victims families' court actions against Israel and take steps to ensure "free navigation" in the eastern Mediterranean. He did not elaborate but some analysts suggested Turkey could send navy vessels to escort aid ships in international waters in the future.
"The time has come for Israel to pay for its stance that sees it above international laws and disregard human conscience," Mr. Davutoglu said. "The first and foremost result is that Israel is going to be devoid of Turkey's friendship."
Mr. Davutoglu said the report "displayed the violence committed by the Israeli soldiers," but also criticized it for describing Israel's naval blockade as a legitimate security measure and in line with international law.
"Turkey does not recognize Israel's embargo on Gaza," Mr. Davutoglu said, adding that Turkey would take steps to have the International Court of Justice and the United Nations to look into its legality.
Under Turkish-Israeli military agreements, Israel provided Turkey with drones which the country uses to gather intelligence on Kurdish rebels fighting Ankara for autonomy. Israel has also modernized Turkish tanks and warplanes while Israeli pilots used Turkey's airspace to train. The countries' militaries have also trained with each other in both countries, and were top defence trading partners, although no new defence contracts have been signed since 2008.
Israeli officials speaking on condition of anonymity because they were not permitted to be identified said that Israel accepts the conclusions of the UN report, with certain reservations. They said Israel would not apologize for a legitimate act of self-defence.
"As recommended in the report, Israel again expresses its regret for the loss of life, but it will never apologize for the self-defence acts of its soldiers. Israel, like any other country, has the legitimate right to defend its citizens and its soldiers," the Israeli officials statement said.
In Gaza, Hamas applauded the Turkish move.
"This is a natural response to the Israeli crime against the freedom flotilla" and to the continuation of the naval blockade, spokesman Sami Abu Zuhri said.
A senior Israeli government official who had seen the report told the AP earlier this week that Israel has come to believe that Turkey is intent on worsening ties with Israel in order to bolster its own position in the Arab and Islamic world. While Israel does not rule out quiet talks with Turkey on an expression of regret and reparations to families of the dead activists, the report does not ask for an Israeli apology and there will not be one, he said.
He spoke on condition of anonymity because of the sensitivity of the matter.
Nine pro-Palestinian activists were killed aboard the Turkish-flagged ship Mavi Marmara, after passengers resisted a takeover by Israeli naval commandos. The flotilla was en route to Gaza in an attempt to bring international attention to Israel's blockade of the Palestinian territory. Each side blamed the other, claiming self-defence.
The fatalities included eight Turkish nationals and one Turkish-American activist.
After the violence triggered an international outcry, Israel eased restrictions on goods moving into Gaza overland, but left the naval blockade in place.
The activists charge the blockade constitutes collective punishment and is illegal. Israel asserts that it is necessary to prevent weapons from reaching the militants who regularly bombard Israeli towns with rockets from Gaza, which is ruled by the Islamist Hamas.
The UN committee established in the aftermath of the incident was made up of two international diplomats - former leaders of New Zealand and Colombia - one representative from Israel and one from Turkey.
Participants in the flotilla, the committee wrote, "acted recklessly in attempting to breach the naval blockade." Most passengers were peaceful, according to the report, but a small group was prepared for organized resistance. These passengers were "armed with iron bars, staves, chains, and slingshots, and there is some indication that they also used knives."
After soldiers rappelled onto the deck from helicopters, according to the report, "three soldiers were captured, mistreated, and placed at risk by those passengers. Several others were wounded."
"No satisfactory explanation has been provided to the Panel by Israel for any of the nine deaths," according to the report as quoted by the paper.
The committee noted "forensic evidence showing that most of the deceased were shot multiple times, including in the back, or at close range."
The senior Israeli government official said those hit in the back were attacking soldiers when they were shot from behind by other soldiers acting to save their comrades.