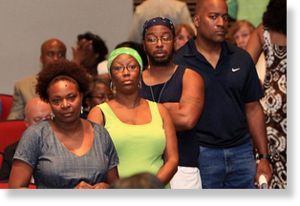 Parents of students at an Atlanta public school where cheating was alleged to have occurred on a statewide test on Tuesday night defended their school and teachers at a town hall meeting.
"We've been extremely pleased with the instruction my children have received," said Quinnie Cook-Richardson, one of several parents at the troubled West Manor Elementary School who spoke at the meeting.
Her son's teacher had him reading within a year, she said, adding, "They are an example of what is right with Atlanta Public Schools."
Cook-Richardson was among a parade of parents who defended a school where the principal has been asked to resign because of the scandal surrounding the 2009 Criterion-Referenced Competency Tests.
"This school is in pain," said Sherida Ragland, the former Parent-Teacher Association president at West Manor. "There are 300 other parents who couldn't make it [tonight] and they're feeling the same way."
The town hall meeting, held at Jean Childs Young Middle School in southwest Atlanta, was called by the school board representative for the area, LaChandra Butler Burks.
"The entire district is hurting," she told the parents. She said employees named in the report would get due process in termination hearings. Meanwhile, she said, the school system must work on its "culture."
The parents were worried about the effect of the scandal and investigation on their kids.
Angela Lawson coordinated a reading group this summer with her son's classmates. "They have a thirst for knowledge," she said.
Also Tuesday, about 15 clergy, parents and community members attended the early portion of a planned six-hour vigil outside Atlanta Public Schools.
On a small stretch of sidewalk outside the district's headquarters in downtown Atlanta, participants sang songs and offered prayers on behalf of the leadership, teachers and children in Atlanta Public Schools.
The event was organized by Rev. Timothy McDonald of First Iconium Baptist Church in East Atlanta as a way to highlight the work of the thousands of teachers and employees not associated with the cheating scandal.
"There's too much anxiety from teachers, principals and students," he said. "It's time to turn this around and get excited for the school year."
Leading up to the start of the school year, the district has been communicating with parents and community members through an active Twitter account, @apsupdate, and Facebook page.
In another development, the legal bills of former Atlanta schools superintendent Beverly Hall, as they relate to the district's ongoing cheating scandal, have cost APS more than $53,000 so far, according to Channel 2 Action News.