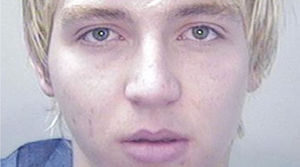 A leading criminologist says teenage killer Joshua Davies may have battered 15-year-old Rebecca Aylward to death because he "did not want to lose face".
And David Wilson, professor of criminology and director of the Centre for Applied Criminology at Birmingham City University, says 16-year-old Davies has shown at least some signs of being a psychopath.
Davies was found guilty at Swansea Crown Court on Wednesday of luring popular "Becca", of Maesteg, to woods near his home in Aberkenfig.
The trial judge Mr Justice Lloyd Jones decided to lift Davies' anonymity as a juvenile because of the seriousness of what he did and because of the "deterrent effect".
For months, Davies launched a verbal and internet hate campaign against his former girlfriend Rebecca.
He told friends he was going to poison her, push her over a quarry or push her into a river.
The threats were so numerous one friend infamously "bet" him a free breakfast he would carry out the crime.
He hit her at least six times over the head with a rock and left her lying face down on the rain-sodden forest floor, wearing the new clothes she had bought for their date.
Later, he summoned a friend back to view the body and after Rebecca's panicking family reported her missing, he used Facebook to feign concern.
In one exchange he wrote: "I feel sorry for her mother."
When asked why, he replied: "Well if I was a parent I'd be worried if my daughter was missing."
At his five-week trial he denied murder, coolly claiming the friend who viewed the body was the real killer, not him.
But the jury came back with a 10-2 majority verdict and the length of time he must spend behind bars will be determined in September, after the trial judge has viewed a psychiatric report.
Speaking to Wales on Sunday, former prison governor-turned-criminologist Professor Wilson said the motive for Rebecca's brutal murder was so puzzling he said it was possible Davies might have killed her so as not to lose face.
He said: "He made so many threats on instant messaging, by text and to his peer group, in the end it may have been difficult for him to walk away from.
"It could have been simply a case of him not wanting to lose face, to show he would do what he said he was going to do."
Professor Wilson added that despite his young age, some of Davies' actions were those of a psychopath.
He said: "Quite clearly the callousness of what he did and the lack of empathy he showed for his young victim were some of the hallmarks of psychopathic behaviour.
"He even called a friend to look at the body.
"He also displayed what we call Shallow Affect, this is where a person pretends to show emotion where he or she thinks it would be appropriate but the emotion is not genuine.
"I understand the defendant used the internet to show some sympathy with the victim's mother, probably because he thought that would be appropriate.
"No doubt he will now undergo tests including one to determine psychopathy and this involves around 20 questions.
"It remains to be seen what the outcome of that test will be."
Prior to taking up an academic appointment in 1997, Professor Wilson was a prison governor and, at 29, became the youngest governor in England.
He worked at Grendon, Wormwood Scrubs and at Woodhill in Milton Keynes - where he designed and ran the two units for the 12 most violent prisoners in the country, which brought him into contact with virtually every recent serial killer.
He said: "What has happened here is terrible but I have yet to meet anyone I consider to have been 'born evil'.
"When a child behaves like this there is usually something which has happened to make it happen.
"This boy acted beyond the moral universe which had no doubt been created by his parents.
"It is sometimes difficult to ascertain exactly what that is."
In Aberkenfig on Friday people were still trying to come to terms with the news the teenage killer was from the 2,000-strong village.
Life went on as normal in Aberkenfig's main street, the meandering Bridgend Road, packed with Chinese takeaways, busy little shops and traditional pubs like the Golden Lion and the Colliers Arms and cafes like Caterina's.
But the murder of Rebecca Aylward in forestry just a few hundred yards away was a major topic of conversation.
Many people did not want to give their name citing the small population of Aberkenfig and saying "we don't want to upset anyone".
One woman in her 60s, who has lived in Aberkenfig all her life, said: "What we find hard to understand is why this boy would do something like that.
"It is not only this poor girl who has lost her life, the boy's life will be ruined too.
"While your heart goes out to the family of that little girl you have to think too of the boy's family.
"They must have been in shock when this happened as much as the girl's family."
A man on his way to the Golden Lion said: "I'm glad there's been a conviction now the family can have some kind of closure and try, if they can, to put their lives back together."
Father John Meredith, Parish priest for Our Lady and St Patricks Catholic Church, Maesteg, said: "Rebecca's death has left our entire community profoundly shocked and saddened.
"We miss her every day."