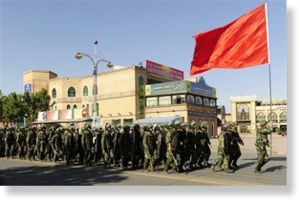 Police shot dead four "rioters" in China's far west on Sunday after at least three people, including a policeman, were killed in the latest in a series attacks in the region this month, the state-run news agency Xinhua reported.
Four suspects were caught and four others were being sought in the latest violence in Kashgar, in a region long beset by anti-Chinese sentiment from the native Uighur population.
Local sources had earlier said three people were killed on Sunday in an explosion, but witnesses reported that the three were hacked to death by the attackers, Xinhua said. Ten people including pedestrians and police were injured, it said.
The violence came about 16 hours after two blasts were reported in Kashgar and eight people killed in a knife attack in the ancient Silk Road city, in the restive Xinjiang region near Tajikistan.
A group of Uighur exiles from the region said martial law had been imposed in Kashgar and that at least 100 people had been arrested.
Xinjiang is strategically vital to China and Beijing has shown no sign of loosening its grip on the territory, which accounts for one-sixth of China's land mass, holds rich deposits of oil and gas and borders Afghanistan, Pakistan, India and Central Asia.
There were no other details immediately available and Xinjiang regional officials did not answer calls to land and mobile telephone lines.
A blogger who said he was in Kashgar posted photographs that appeared to show groups of armed police in camouflage uniforms in a street, some carrying away people who were apparently injured.
As the blogger was conversing online with Reuters, he said he was visited by police who deleted the photographs from his camera and removed them from his blog.
Earlier on Sunday, Chinese media reported that two men wielding knives attacked a truck driver and then a crowd of people following two explosions in Kashgar on Saturday night, leaving eight people dead including one of the attackers, according to tianshannet.com, a Xinjiang government-run website, and Xinhua.
One of Saturday's blasts was from a minivan while another occurred in a food market, Xinhua said. There were no other details from the reports.
Xinjiang is home to many Uighurs, a mostly Muslim Turkic-speaking people native to the region, many of whom resent the growing presence of majority Han Chinese who have moved there. Some Uighur groups have campaigned for independence.
Tight Security
Eighteen people including 14 "rioters" were killed in an attack on a police station in Xinjiang on July 18, according to the government. The dead included two policemen and two hostages in what Chinese authorities described as a terrorist attack.
That clash was the worst violence in about a year in Xinjiang.
Rights groups say Xinjiang remains under tight security, more than two years after its capital Urumqi was rocked by violence between Han Chinese and Uighurs that killed nearly 200 people.
Since then, China has executed nine people it blamed for instigating the riots, detained and prosecuted hundreds and ramped up spending on security, according to state media and overseas rights groups.
Saturday's attacks began with the two blasts, Xinhua said. Two men jumped into a truck waiting at a stoplight and stabbed to death the driver, Xinhua and tianshannet.com said.
The pair then plowed into a crowd, left the truck and started attacking people, killing six, Xinhua said.
The crowd retaliated, beating one of the attackers to death and capturing the other, according to the accounts, which did not further identify the attackers.
Twenty-eight people were treated in hospital, it said.
There were no other immediate details. The reports did not say if authorities suspect there is any link to a Uighur separatist movement or to the July 18 attack.
"The entire city of Kashgar is under martial law, and authorities have arrested at least 100 Uighurs," the German-based World Uyghur Congress said.
It was not possible however to determine if an actual order for martial law had been issued, how heavy the police presence was across the city, or if more people had been arrested.
"There is no way to protest peacefully the Chinese suppression there, and the policy of calculated resettlement," group spokesman Dilxat Raxit said in a statement sent by email to Reuters, referring to ethnic Han Chinese being relocated to live in Xinjiang.