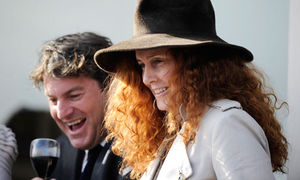 Former NI chief executive's husband denies bag - containing computer, paperwork and phone - belonged to his wife
* * *
Detectives are examining a computer, paperwork and a phone found in a bin near the riverside London home of Rebekah Brooks, the former chief executive of News International.
The
Guardian
has learned that a bag containing the items was found in an underground car park in the Design Centre at the exclusive Chelsea Harbour development on Monday afternoon.
The car park, under a shopping centre, is yards from the gated apartment block where Brooks lives with her husband, a former racehorse trainer and close friend of the prime minister David Cameron.
It is understood the bag was handed into security at around 3pm and that shortly afterwards, Brooks's husband, Charlie, arrived and tried to reclaim it. He was unable to prove the bag was his and the security guard refused to release it.
Instead, it is understood that the security guard called the police. In less than half an hour, two marked police cars and an unmarked forensics car are said to have arrived at the scene.
Police are now examining CCTV footage taken in the car park to uncover who dropped the bag. Initial suspicions that there had been a break in at the Brooks' flat have been dismissed.
David Wilson, Charlie Brooks's official spokesman, told the
Guardian
that Charlie Brooks denies that the bag belonged to his wife. "Charlie has a bag which contains a laptop and papers which were private to him," said Wilson.
"They were nothing to do with Rebekah or the [phone-hacking] case."
Wilson said Charlie Brooks had left the bag with a friend who was returning it, but dropped it in the wrong part of the garage. When asked how the bag ended up in a bin he replied: "The suggestion is that a cleaner thought it was rubbish and put it in the bin." Wilson added: "Charlie was looking for it together with a couple of the building staff.
"Charlie was told it had gone to security, by which stage they [security] had already called the police to say they had found something.
"The police took it away. Charlie's lawyers got in touch with the police to say they could take a look at the computer but they'd see there was nothing relevant to them on it. He's expecting the stuff back forthwith."
Rebekah Brooks was arrested on Sunday under suspicion of conspiring to intercept communications, and of corrupting police officers. She is due to appear before the Commons culture, media and sport select committee today on Tuesday afternoon.