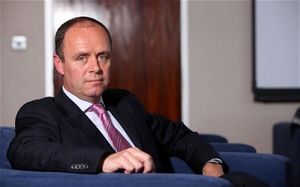 Britain's chief counter-terrorism officer
has become the latest victim of the phone hacking scandal yesterday, resigning amid claims that he helped a
News of the World
executive's daughter get a job at Scotland Yard.
Assistant Commissioner John Yates, who faced criticism for failing to reopen the Metropolitan Police's inquiry into phone hacking sooner, was being investigated by the Independent Police Complaints Commission over his links to Neil Wallis, the former deputy editor of the Sunday tabloid.
It also emerged last night that Alex Marunchak, a former executive editor at the paper, was employed by the Metropolitan Police for 20 years as a translator. Between 1980 and 2000 Mr Marunchak, a second generation Ukrainian, combined his day as job as a journalist with working as a part-time interpreter for Scotland Yard when they arrested suspects from Russia and Ukraine.
Mr Yates's resignation followed that of Sir Paul Stephenson, the Met Commissioner, on Sunday evening.
In his resignation speech, an emotional Mr Yates said he was stepping down due to a "huge amount of inaccurate, ill-informed and on occasion downright malicious gossip published about me personally".
The IPCC also announced investigations yesterday into Sir Paul, Andy Hayman, the former assistant commissioner, and Peter Clarke, the former deputy assistant commissioner, for alleged failings in the phone hacking case.
Mr Yates will also face an IPCC investigation
for failing to reopen the hacking inquiry in 2009.
Theresa May, the Home Secretary, also announced three separate investigations into the scale of corruption at the Met and the force's relationship with the press.
Speaking in South Africa yesterday,
David Cameron said there were "very big questions about potential police corruption".
Mr Yates twice refused to reopen the phone hacking case
despite claims that the original investigation had failed to establish the true scale of perpetrators and victims.
Further pressure was heaped on him following the arrest last week of Mr Wallis, who was employed as a communications adviser to Mr Yates and Sir Paul after stepping down from the
News of the World
. He won the £1,000-a-day contract during the period that Scotland Yard was facing calls to reopen the phone hacking case. Mr Yates and Mr Wallis are friends who have known each other for 12 years, while Sir Paul had eight meetings with him in three years.
That relationship came under further scrutiny last night when it was alleged that Mr Yates helped Mr Wallis's daughter, Amy, 27, get a job with the force. The police staff position, which Miss Wallis was understood to still hold, was not under Mr Yates's specialist operations command.
Sources told
The Daily Telegraph
that Mr Yates had been due to be suspended yesterday following a meeting of the Metropolitan Police Authority's professional standards committee. Sources close to Mr Yates said that until that decision he had intended to stay in his job because he had "done nothing wrong".
But following the MPA's decision to suspend him and refer the allegations to the IPCC, he tendered his resignation. Afterwards Boris Johnson, the Mayor of London, said that it was right for Sir Paul and Mr Yates to stand down.
He added: "I believe that both decisions are regrettable but I would say that in both cases the right call has been made. There is absolutely nothing that has been proven against the probity or the professionalism of either man.
"But in both cases we have to recognise that the nexus of questions about the relationship between the Met and the
News of the World
was likely to be distracting to both officers in the run-up to the Olympic Games."
The Home Secretary also said she was "sorry" that Sir Paul had taken the decision to stand down and expressed "gratitude" to Mr Yates for his work in counter-terrorism.
Sir Paul's position as commissioner will be filled temporarily by his deputy, Tim Godwin. Bernard Hogan-Howe, the former chief constable of Merseyside, will become acting deputy commissioner. Assistant Commissioner Cressida Dick will take Mr Yates's role as head of counter-terrorism, moving from her role in charge of serious crime.
Reacting to the news of the investigations into two of the force's two most senior officers, Scotland Yard released a statement saying: "The Metropolitan Police was informed by the Metropolitan Police Authority, after their meeting this morning, that they had decided to make a referral to the Independent Police Complaints Commission.
"We weren't aware that there was complaint against the Commissioner prior to this notification. We understand the IPCC are now considering the referrals of Sir Paul Stephenson, John Yates, and two ex-officers."