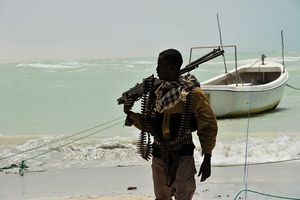 Pirates have hijacked a petrol tanker belonging to the United Arab Emirates in the Indian Ocean and are sailing it to the Somali coast, the EU's anti-piracy body announced on Monday.
"Late on the morning of July 16, it was reported by the owners that the MV
Jubba 20
, a laden tanker, had been pirated in the northern Indian Ocean, on her regular route from the United Arab Emirates to the port of Berbera" in the breakaway state of Somaliland, said the European Union Naval Force Somalia.
The
Jubba 20
is an oil tanker owned and flagged by the UAE with a deadweight of 4,831 tonnes, said a statement from the Brussels-based force.
Marine patrols found the ship on July 17 some 100 nautical miles north-west of Socotra Island, off the coast of Yemen, on its way to the northern Somali coast. Nine Somali pirates are reportedly on board.
There is no information yet on the condition of the 16-strong crew who include four Somalis as well as five Indians and nationals of Bangladesh, Sudan, Myanmar and Kenya.
The UN Security Council last month warned that Somali pirates were attacking growing numbers of ships in the Indian Ocean and the attacks were becoming more violent and extreme.
There were 266 cases of piracy at sea in the first six months of 2011, compared to 196 the previous year. Sixty percent of these involve Somali pirates, who at the end of June were holding 20 ships and 420 hostages.