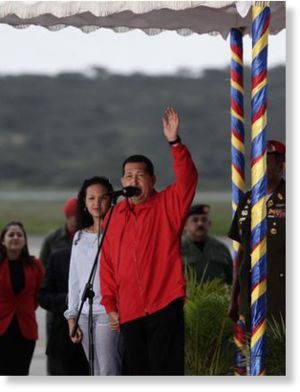 Venezuelan President Hugo Chavez left home Saturday for Cuba to begin chemotherapy, vowing to win his fight against cancer and calling for his political allies to stay united in his absence.
Before boarding his plane at Caracas' international airport, Chavez said: "It's not time to die. It's time to live."
He stood alongside one of his daughters, Rosa, on the runway while the national anthem played and soldiers stood at attention.
"I'm saying good-bye for some days," Chavez said. He has not said how long he expects to stay in Havana.
"Tomorrow I begin chemotherapy treatment, and we're going to give it everything we've got," Chavez said in a televised speech earlier at the presidential palace. He said the treatment would ensure cancer cells have not reappeared since he underwent surgery last month to remove a tumor.
After thorough medical checks, "no malignant cell has been detected in any other part of my body," Chavez said to the applause of aides and allies at the presidential palace. He added, "There is always the risk of some cells escaping or tending to reproduce, and therefore there's a need to attack hard through chemotherapy."
Earlier in the day, Chavez announced he was delegating some of his duties to his vice president and finance minister as he prepared to fly to Cuba.
Chavez previously had refused opposition demands that he temporarily cede power to Vice President Elias Jaua while undergoing chemotherapy in Havana. But shortly after a legislative vote approving his trip, Chavez said at a televised Cabinet meeting that he would hand off some responsibilities.
He said his vice president would oversee budget transfers to government ministries, presidential commissions, any expropriations of businesses and other budget-related responsibilities. Planning and Finance Minister Jorge Giordani would deal with matters including budget shortfalls and certain tax exemptions.
Chavez denied he was in any way ceding his functions as president.
He said that if his physical capacities were diminished in the future, "I would be the first in doing what the constitution says" in delegating functions to the vice president.
He spoke at length in several televised appearances. In a speech to party leaders and aides, he called for them to defeat any internal divisions, describing them as "cancerous tumors within the political body."
"Unity, unity, unity," Chavez said.
He repeated that message as he addressed troops and supporters on the steps of the presidential palace. He announced new appointments for five generals include the chief of his presidential guard, saying the moves were to "continue strengthening the unity of the Armed Force."
"Military unity, civilian unity. ... National unity. That's one of the greatest ways you can help me now," Chavez said. "I will return, and I'll return better than I'm going away."