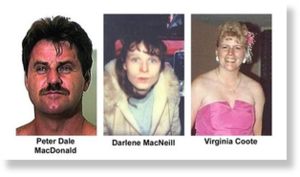 The Crown has dropped first-degree murder charges against a convicted killer in the deaths of three Toronto prostitutes in the 1990s, the Ontario attorney general's office said Saturday.
Peter MacDonald, who is in his fifties, is serving a life sentence after being found guilty of second-degree murder in the 2000 death of James Campbell in Toronto.
He was charged with the deaths of the three sex workers last October.
The bodies of Julianne Middleton, 23, Virginia Coote, 33 and Darlene MacNeill, 35, were found near Toronto's Sunnyside Beach between 1994 and 1997.
The Crown withdrew the charges "because there is no longer any reasonable prospect of conviction," Brendan Crawley, a spokesman for the attorney general's office, wrote in an email.
"I understand the police investigation into the murders is ongoing."
Breese Davies, who has been defending MacDonald in the case, said the Crown's decision shows police never should have charged him in the first place.
"Very few cases are withdrawn by the Crown on the basis that there's not even a reasonable prospect of conviction," she said.
Davies said she would also like to see Toronto police make an announcement that the charges are withdrawn after they made a "big deal" of laying the charges.
Toronto police weren't immediately available for comment.
MacDonald, who is from Prince Edward Island, is also facing trial in October on a second-degree murder charge in the death of Michelle Charette in 2000. Her body was found in a field in Windsor, Ont.
He was originally charged with second-degree murder in her death in 2003. The charge was withdrawn after a preliminary hearing, then reinstated in January 2010 after police found new evidence.
MacDonald got a life term after admitting to strangling Campbell, a retiree and his casual sex partner. He will be eligible for parole in that case in 2017.