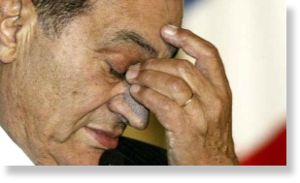 Mubarak's lawyer says the former leader suffered a stroke, while director of Red Sea hospital denies claim; 83-year old is due to appear in Cairo court for questioning.
Egypt's former President Hosni Mubarak, who was ousted in February and has been detained in a hospital at the Red Sea resort of Sharm el-Sheikh, has fallen into a coma, his lawyer said on Sunday.
"I was informed about the sudden deterioration in Mubarak's health and I am now on my way to Sharm el-Sheikh. All that I know so far is that the president is a full coma," Mubarak's lawyer Farid el-Deeb told Reuters. He did not give more details.
The director of a hospital in the Red Sea resort of Sharm el-Sheikh were Hosni Mubarak is being treated has denied Mubarak's lawyer's claim that the former president fell into a coma, state television reported Sunday.
"
The director of Sharm al-Sheikh International Hospital denies the statements of el-Deeb about Mubarak falling into a coma
," television said in a brief headline.
The former Egyptian president received a summons to appear before a Cairo court for questioning earlier this month, and special security was to be arranged to proceed with the trial.
The summons were issued as part of probes into the killing of protesters and the embezzlement of public funds, but the ousted president has said allegations of wrongdoing levelled against him are lies.
In May, Egypt's prosecutor general said Mubarak was too ill to be imprisoned while he awaited trial after receiving a report from a government-chosen panel of physicians saying Mubarak was too weak to get out of bed without help.
The panel reported that Mubarak's heart condition put him at risk of a sudden attack. The 83-year-old former leader suffers from atrial fibrillation and depression, making him too frail to be transferred to prison.
Sources; Reuters, Associated Press