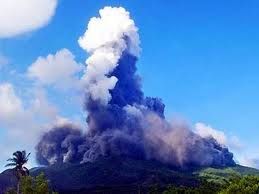 Restive Bulusan Volcano in Sorsogon acted up again onTuesday, spewing ash in a predawn explosion before dawn, state volcanologists said.
The Philippine Institute of Volcanology and Seismology (Philvolcs) said the quake occurred at 2:58 a.m., accompanied by a rumbling sound audible at Monbon village in Irosin town.
"(But) the explosion was not observed because the volcano summit was covered by thick clouds. Field investigation conducted this morning confirmed the presence of traces of ash deposits in Monbon, Irosin," Phivolcs said on its website on Tuesday.
Phivolcs said Bulusan's alert level remains at "1." The alert level had been at "1" since November last year.
The volcanologists added the source of Tuesday's activity was "hydrothermal and shallow."
"However, no entry to the four-kilometer radius Permanent Danger Zone (PDZ) is strongly advised, since the area is at risk to sudden steam and ash explosions," Philvolcs reminded residents.
Volcanologists also advised residents in the northwest and southwest sectors of the volcano to take precautions against ashfalls.
Civil aviation authorities must also warn pilots to avoid flying close to the volcano's summit as ejected ash and volcanic fragments from sudden explosions may be hazardous to aircrafts, Philvolcs added.
"Furthermore, people living near valleys and river/stream channels should be vigilant against sediment-laden stream flows and lahars in the event of heavy and prolonged rainfall," Philvolcs said.