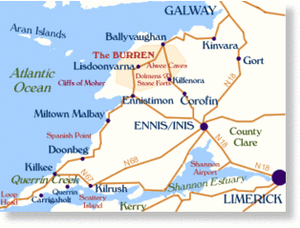 An earthquake has shaken the west of Ireland for the first time since records began.
Locals felt their houses shaking and heard loud bangs as the mini-quake, measuring 2.6 on the Richter scale, hit north Clare on Thursday night.
Liscannor resident Martin Doyle said: "I felt the whole roof shake. I thought the wall was collapsing. My neighbour called and he thought that the sound he heard was me falling down the stairs."
Rosemarie Buckley, who lives nearby, also said: "The house shook and we heard a loud bang."
Her husband Tom added:
"We didn't know what it was. We thought it might have been a meteorite or something."
The tremor was 10 times more powerful than the one which hit Co Donegal earlier this year.
Thomas Blake of the School of Cosmic Physics at the Dublin Institute for Advanced Studies confirmed the tremor happened at around 11.30pm on Thursday.
"It was a reasonably good shake," he said. The tremor would have occurred from depths of 20km to 25km under the Earth's surface.
"We would regard this event as very important as it is the first time a tremor has occurred in the west of Ireland since records began."
Mr Blake pointed out that recording of tremors started in 1978 "and there is no record in any historical archive of a tremor or earthquake before that in the west of Ireland".
The seismologist said the epicentre was in central north Clare and confirmed that reports of it were "coming in all morning".
Mr Blake said stations in Dublin and Valentia in Co Kerry picked up the vibrations from the tremor: "This event forces us to reevaluate the west of Ireland's geology as tremors in the past have only been felt in Co Donegal and the south-east coast," he said.
But he dismissed any global significance connected to the event. "Thousands of these events occur every day around the world," he said.
According to Mr Blake, the reports received so far from north Clare residents mention "a noise sounding like a clap of thunder, a booming sound and a strong vibration in the ground".
A spokesman at Ennistymon garda station said yesterday they had no reports of damage in the area as a result of the tremor. "We received a number of phone calls at the time from people reporting a loud bang," he said.
Cliffs of Moher Visitor Centre manager Katherine Webster said yesterday she "felt a loud bang in the house last night. I didn't know what it was. I thought it might have been a neighbour moving furniture.
"We didn't notice any difference to the contours of the Cliffs when arriving at work today."