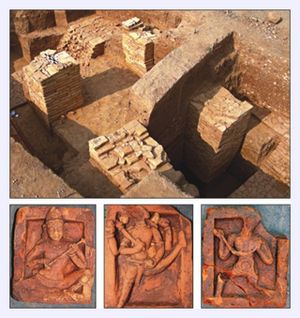 Archaeologists of Jahan-girnagar University in Dhaka have recently dug out the first Hindu temple from the early Pala period in Bengal at Chandipur village in Birampur upazila of Dinajpur tentatively dating back to the 8th century.
No other Hindu temple of any kind dates from Pala period (eighth eleventh century) in Bengal, according to experts.
A team of students of the Department of Archaeology and experienced excavators from Mahasthan, directed by Swadhin Sen, assistant professor, Department of Archaeology, and led by Prof Syed Md Kamrul Ahsan of the same department, started digging on this archaeological mound locally known as "Tileshwarir Mound" in 2007.
A number of experts from India, France, England and Bangladesh from various fields including archaeology, geology and geomorphology are collaborating with the team. Archeologists exposed a cell with four pillars and a staircase leading into that cell along with other brick built structures on the eastern part of the mound and found huge amount of potsherds of Pala period and onward in previous season.
Swadhin Sen, the director of the excavation team, said this season they have found another cell on the western part adjoining the earlier one.
According to him the four-pillared room served as the garvagriha and the cell of the west with a brick built platform inside acted as the mandapa as per the layout style of a Hindu temple. He added that the stratigraphy of the excavation proofs that the religious edifice was used and reused several times until the 14th-15th century.
The team has found three terracotta plaques from a trench. One of them has been identified with the Vamana incarnation of the Hindu god Visnu. The two others are under scrutiny now.
Visiting the site, Dr Arun Nag, reader of ancient Indian culture, history and archaeology of Biswabharati University and an expert in eastern Indian architecture, has inferred that this temple is devoted to Visnu. The architectural style and the pottery assemblages found from several consecutive floor levels and floor preparation levels dates back to the 8th century, the period of early Pala kings.
Prof Dipak Ranjan Das, a retired professor of ancient Indian history, culture and archaeology of Calcutta University and one of the most prominent authorities on eastern Indian architecture, supported this inference on dating of the temple.