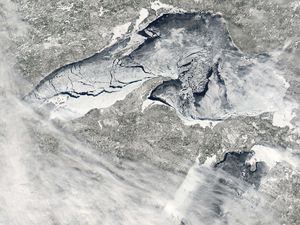 Hancock - There hasn't been much snowfall in the Houghton/Hancock area recently, and according to Steve Fleegel, that's due in large part to the condition of Lake Superior.
"It's pretty much frozen over," said Fleegel, who is a meteorologist at the National Weather Service office in Negaunee Township. "There's a few little breaks here and there."
Because the lake is frozen, Fleegel said when cold air passes over it, lake effect snow isn't created as when the relatively warmer water is open.
Despite the colder-than-normal December and January, Fleegel said there was an area of open water east of Marquette. After the colder-than-normal temperatures in the last week of February and so far in March, that area finally froze over.
"(December and January) kind of set the stage," Fleegel said.
BM1 Brian Lamb of the United Sates Coast Guard station in Dollar Bay said he doesn't know if Lake Superior is frozen completely, but it won't affect their operations if it is. The service will be involved with the opening of the Soo Locks on March 25 for the start of the Great Lakes shipping season.
"We break the ice at the locks every year," he said.
The last time Lake Superior froze completely was the winter of 2002-03, Fleegel said. Before that, it froze in the winter of 1995-96.
Spring is on its way, and Fleegel said temperatures for early March will be warming up, which could begin the process of melting the ice on Lake Superior.
"For the next several days and into next week, we're going to be normal or a little above normal," he said.
Rain and freezing rain are forecasted for today, but Fleegel said that alone won't cause much melting of the lake.
"Overall, that won't have too much of an effect," he said. "Warmer temperatures and wind direction may open up the ice."
Fleegel said temperatures regularly in the 40s won't happen in this area until the last week in March and the first week in April.
"We still have a little ways to go," he said.