The eastern half of the country is experiencing warmer than normal temperatures, and there will not be any snow the next 24-36 hours east of the Mississippi River. The exception is northern New England where there can be just a few snow showers Friday night.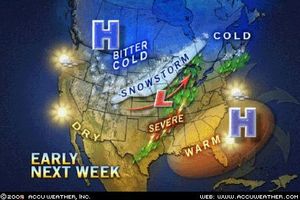 The majority of the snow through the day on Saturday will fall over the central Rockies. A widespread area of snow will stretch from Idaho and Wyoming southward into Utah and Colorado. The heaviest of the snow is anticipated to fall in the higher terrain of Utah and Colorado where there can be 6-12 inches of snow Friday night and Saturday. The heavy snow across this region will lead to poor and, at times, dangerous travel conditions, especially in the highest elevations. However, ski resorts can only expect to add to their bases over the weekend. As this storm pulls out of the Rockies and into the Plains later Saturday into Sunday, there will be a small stripe of snow from western Nebraska northeastward into the upper Mississippi Valley and northern Great Lakes. As this first storm moves by, there will only be a limited amount of cold air available and most precipitation over the mid-Mississippi Valley and lower Great Lakes will fall as rain.
A more vigorous storm will dive into the Pacific Northwest Saturday into Saturday night, bringing some snow to the Cascades and then eventually into the northern Rockies Sunday. Snow levels are anticipated to be quite low with this storm and places like Seattle, Washington and Portland, Oregon, can even see some snow showers over the weekend. The heaviest snow, as is usually the case, will fall in the higher terrain, with some spots in the Washington Cascades receiving more than a foot of snow through Monday. As this storm strengthens and moves eastward Monday into Tuesday, an area of heavy snow is expected to develop somewhere over the northern Plains, combining the heavy snow with the wind, there will likely be blizzard conditions produced by this storm Monday night into Tuesday.