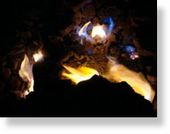 A mysterious fire has been burning for more than a month within a mountain in China's southwestern Guizhou Province. The fire has been burning with increasing intensity, alarming and frightening local villagers. The cause of the fire has not been identified.
Villager Li Qingliang said that this fire initially began in the middle of December, 2008 when locals noticed plumes of smoke emerging from the mountain. A few days later, flames emerged. The temperature in the area has been very low, and it has also been raining steadily for the past month, yet the fire remains burning and only continues to grow. And now Li says that thick smoke is also coming from a location near his home. He worries that the fire might emerge even closer to him.
"If the fire keeps burning like this, we are concerned that there might soon be fire coming out from our home one day," said retired teacher Li Mingwan, who observed that the ground near the fire has been steadily sinking.
What worries villagers most is the safety of the dozens of families living near the foot of the mountain. A 1.5 foot wide crack on the mountain opened soon after the fire started burning. Villagers fear the crack may widen and cause a slide.
Experts have determined that the fire has a liquefied petroleum gas content of as much as 21 percent. The local fire department suspects the fire may be caused by liquefied petroleum gas burning inside the mountain.