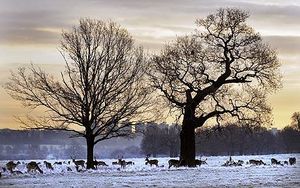 Since December 1, the meteorological start to the season, the average UK temperature has been only 35.1F (1.7C), well below the long-term 1971-2000 average of 40.5F (4.7C) for the first 10 days of the month.
It is the coldest start to December since 1976, when the average was 33.4F (0.8C).
Arctic and continental winds have dominated the weather since mid November, bringing colder conditions than normal.
On December 3 the temperature dropped to 9.1F (-12.7C) at Tulloch Bridge near Fort William in the Scottish Highlands and Tyndrum in Central Tayside, while Copley in County Durham received more than eight inches (21cm) of snow the next day.
While forecasters consider December 1 as the start of winter, many people consider the season to start on the solstice, which this year falls on December 21.
Saturday will see bands of rain cross the country from the west, with warmer air trying to push in. Temperatures will be higher than recently, reaching 48.2F (9C) on the south coast.
But Nick Grahame, the Met Office's chief forecaster, said that did not signal a change in the pattern of weather, with colder air set to return early next week.
He said: "The start of the weekend will bring a spell of wet and windy weather as milder Atlantic air attempts to push across the country. However, colder air looks set to win the battle again which means that frost and ice will become hazards with the risk of snow in places".