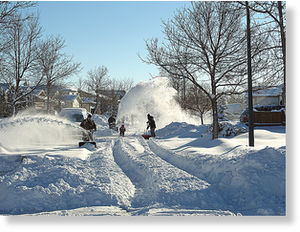 With more snow to boot
Will we freeze in our boots or skate through a mild winter?
Weather forecasters say parts of Manitoba might be in store for cooler than normal temperatures from now through February with more precipitation than usual this winter.
"
We're saying this will be a colder than normal year
," said David Phillips, senior climatologist for Environment Canada.
The weather agency doesn't predict exactly how much colder the winter might be but Phillips said it could be similar to last winter, which ran about one degree colder than normal.
The absence of any major weather phenomenon such as an El Nino system makes establishing a seasonal forecast more challenging, said Phillips.
On a different side of the weather question, the Canadian Farmer's Almanac calls for a "numbing" winter but with average snowfall for the Prairies.
Meanwhile, the Weather Network yesterday released its own winter forecast calling for "rollercoaster" weather across the country.
Chris Scott, forecast operations manager for the Weather Network, predicts northern Manitoba could be cooler than normal. Southern Manitoba will see temperatures sit close to normal, he said.
"It doesn't mean we won't see pretty good cold snaps," said Scott.
Both Scott and Phillips said parts of Manitoba might see slightly higher than normal precipitation levels.
The possibility of more snowfall had at least one business owner smiling.
"It's good weather -- we're going hard and we'll be open soon," said Bernice Later, operations manager at Holiday Mountain ski hill in La Riviere, which opens Dec. 12.
The City of Winnipeg is prepared for any extra snowflakes, having just spent a little more than half of its $26-million snow clearing budget for 2008.
"There's about $10 million left in the snow budget so we're in decent shape," said Ken Allen, a spokesman for the city's public works department.